Introducing MyHold iPhone Application for SMBs
Tuesday, June 22, 2010
Posted by John Beagle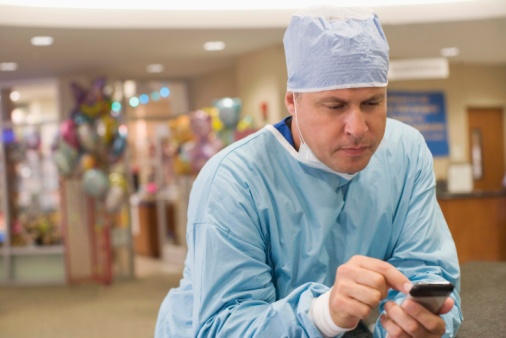 Photo: A Doctor takes time out to manage his phone system with MyHold
Audio Messaging Solutions (AMS), a national provider of telephone on-hold messaging services, recently introduced a free "MyHold" iPhone application for SMB's, small to medium sized businesses. Now available for all current AMS customers, the app is equipped with a variety of features and functions, making it easy for business owners to review and select message 'on hold' content, as well as efficiently manage updates.
With just the touch of a button, customers can review current messages, approve scripts, listen to music and voice talent samples, and even use the iPhone's voice recorder to submit updates. When the production changes are submitted, the vocal instructions are attached as an additional request, which is then fulfilled by AMS.
MyHold also gives users the ability to browse archives and previous scripts, or place a one-click call to the AMS production and technical teams. A separate 'support' tab allows customers to quickly open a case to report troubleshooting issues.
"With the AMS MyHold app, our customers can view and control on hold changes anytime, anywhere – all from the palm of their hand," said Mitch Keller, president of AMS. "It's another way AMS continues to blend innovation, technology and messaging as part of our extended services."
For more information about using AMS for on hold marketing, auto attendant or overhead music needs, please call (800) 584-4653.
___________________
About AMS:
Originally founded in 1986, Audio Messaging Solutions, LLC (AMS) is a Tampa Bay, Florida-based multimedia firm, specializing in on-hold messaging and custom telephony recordings as well as overhead music services for more than 30,000 locations nationwide. Providing creative consulting, script development, voice talent selection and recording, AMS is a full-service audio messaging source, working with clients such as The Goodyear Tire & Rubber Company, Regions Bank, Raymond James Financial, and The United States Postal Service. The company has been recognized by Inc. 5000 as one of the nation's fastest growing privately held companies and is a member of the On-Hold Messaging Association. For more information about AMS, please visit http://www.onholdbusiness.com

Other SMB News