Mobility in Today's SMB Workforce
Wednesday, October 31, 2007
Posted by Bill Rogers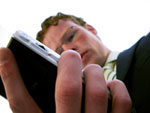 There's an unfair stereotype that SMBs are behind the curve when it comes to keeping up with the latest technology, but surveys conducted by the Computing Technology Industry Association (CompTIA) shows that it's not an accurate assumption.

Nearly three quarters of polled SMBs have at least one employee telecommuting, and on average, seven percent of their workforce works from home on one or more days of the week. Over 90% of the surveyed SMBs also indicated that they have one or more employees travelling on business at least once a week.

Steven Ostrowski, corporate public relations manager for CompTIA stated "I think too often when we say 'small business,' we think of a mom-and-pop operation that's just selling in the neighborhood. More and more, it's just not that way anymore. They're competing regionally, nationally and globally, and in a lot of ways, it's the technology that allows them to do so."

Of the over 500 American SMBs polled 44% of them stated that they had plans to invest in smart phones over the next year. 32% plan to invest in VPN's over the next year. While over 80% of the SMBs indicated that they were satisfied with their current IT and communications systems when it comes to giving a boost to efficiency in managing day-to-day affairs, nearly three quarters of those said deploying convergence technologies would allow for more effective internal and external communications, which all of them see as having high strategic importance.

Ostrowski thinks SMBs are willing to make the necessary investments. One in three of the SMBs surveyed said they considered themselves to be early adopters of technology. "They are looking for solutions that will help them do ubsiness better. I think, historically, we've thought of small businesses as being laggards when it comes to adopting new techonology. That's no longer the case. The gap between the early adopters and the later adopters is decreasing."