Security Camera Installation for your SMB
Wednesday, March 30, 2022
Posted by Robert Beagle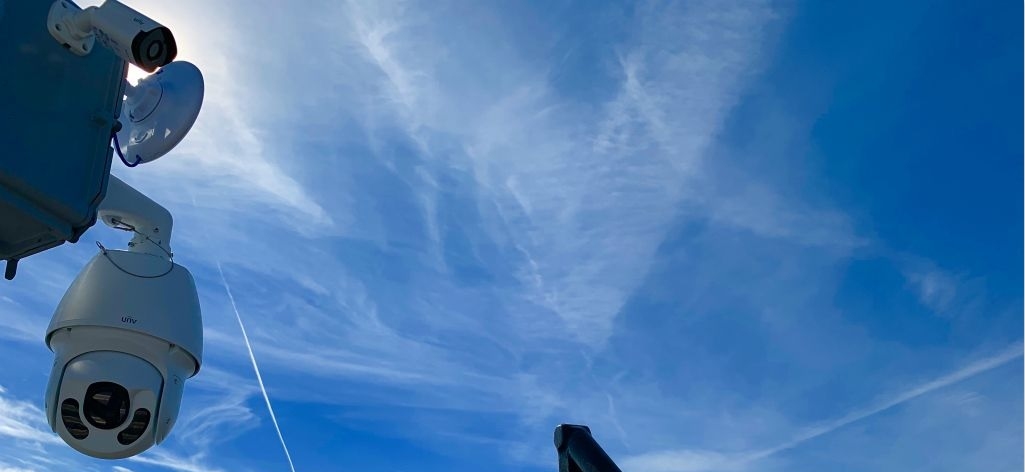 While having security cameras is an integral part of any business, the company you choose to install these monitoring devices can be even more important than the products you're having installed. After all, how can you run a profitable business if you can't protect your assets?

Surveillance installer selection is so important because security cameras are becoming more intelligent – and complicated – than ever. With so many options and features like hard drive selection, weatherproof rating, cabling options, scalability, smart alerts, infrared or WDR, not to mention security camera brand and model selection – choosing which cameras, what products to have installed, and where has become increasingly more complicated.
Although each security brand and product can be built differently, there are some questions that every security manager should ask their installer before signing a contract. Continue reading to find out the four most important questions to ask your security camera installer.
What kind of hard drives do you install?
Although investing in the latest and greatest security cameras and peripherals can be a great idea, if your security installer uses substandard hard drives, you can face serious performance, storage, and lifespan issues.

For surveillance recording, you must use surveillance-grade hard drives or better. While there are many options on the market, make sure that your installer is using the correct hard drive(s) for your project to ensure optimal performance and reliability. Some examples of surveillance-grade hard drives are Western Digital Purple, Seagate SkyHawk, and Toshiba S300.
The consequences of not using storage built for the security industry could mean losing important footage; as dedicated surveillance, hard drives are more reliable, durable, and advanced than desktop hard drives. If you're upgrading the hard drive of an already installed surveillance system, make sure you find out if your new hard drive is compatible with your old system.
Bonus: Ask your installer if they use H.265 or High-Efficiency Video Coding (HEVC). This latest iteration of video compression is great for handling the compression demands of the latest high-resolution imaging formats like 4K. This compression standard reduces bandwidth and storage consumption, improves live feed and remote viewing quality, and records for longer without having to overwrite or erase old security footage.
How are you going to weatherproof our connections? What's the IP rating of my security cameras?
Protecting the connections running to and from your security cameras is an essential step to maintaining these devices long-term. Find out what steps your installer takes to make sure that the wiring of the cameras they are installing is protected from the elements like rain, snow, wind, and other hazards. These weatherproofing measures used by your installer to protect the connections for your outdoor cameras must be rated at least IP66. Electrical tape, non-weatherproofed boxes, or improperly sealed weatherproof boxes just won't cut it in extreme conditions – and could lead to a critical failure in your security camera system.
The IP rating of your cameras classifies the degree of protection offered by the camera's housing. If your security cameras will be inside, it's likely that you won't need cameras with a high IP rating. However, if your cameras need to stand up to extreme weather conditions, you need cameras with higher IP ratings. Since outdoor cameras are likely to be exposed to moisture, wind, dust, and other debris make sure that your installer is using cameras that are at least IP66 or better.
Your installer should stand by their work. If their installation or weatherproofing work fails, the cost of repairs or replacement isn't covered by your camera's manufacturer's warranty.
Bonus: What does an IP rating mean for security cameras?
What type of cable are you installing?
When you see a bridge being built, you hope that the construction company is using the highest quality cables available to ensure that the whole project doesn't come crashing down later, right? The same is true of the network cables your installer uses. Without the right network cables, your system could experience failure faster than you'd imagine.
If your installer isn't sure what kind of cables they're using, then they're probably using CCA or Copper-Coated Aluminum Cables. CCA cables are a way for installers to save money on installation – and cost you more in the long run, frequently failing network certification tests. Your installer should use copper cable, which is far superior to copper-coated substitutes.
If you're going to pay an installer thousands of dollars to install your system and run network cable, you want to make sure that the cable they're using will be sufficient for future generations of security cameras. For many of today's most common surveillance applications, Cat5E is the standard. However, Cat6 is preferred for future-proofing your project. Our installation experts are confident that Cat6 cable is not only suitable for the current generation of cameras, but that it will continue to offer the high-speed data transfer rates necessary for the next generation of cameras when you're ready to upgrade in 3, 5, or even 10 years.
Are there any required monthly fees?
How many times have you heard a sales pitch that sounded too good to be true; and then you read the fine print only to find out the many pitfalls you didn't anticipate. Make sure that your system is really your own before you sign on the dotted line.
Many installers – like ADT – will hold your surveillance system hostage, requiring you to sign up for a long-term contract that includes a monthly bill. When your contract ends or you opt-out of the monthly bill, you lose access to live viewing options, recordings, or both.
Security Camera Installation
Our top recommendation – CameraSecurityNow.com – has over 20 years of experience in the surveillance and security camera industry. This experience has allowed them to develop a wide network of installers and technicians around the country that all offer the same great service. They have also worked with businesses, municipalities, schools, and other locations around the country.
Camera Security Now's easy-to-use quote request form allows you to give them the basic information they need in order to develop a hardware estimate for your project – free of charge.
Security camera service and installation professionals will deliver your products and install them exactly where and how your company needs them, helping to ensure the safety and security of your business, employees, customers, and products. Request a quote from CameraSecurityNow.com today to find out just how easy it is to have the right equipment installed when you find the right installer.