Selecting a VPN for your SMB
Tuesday, September 6, 2022
Posted by Robert Beagle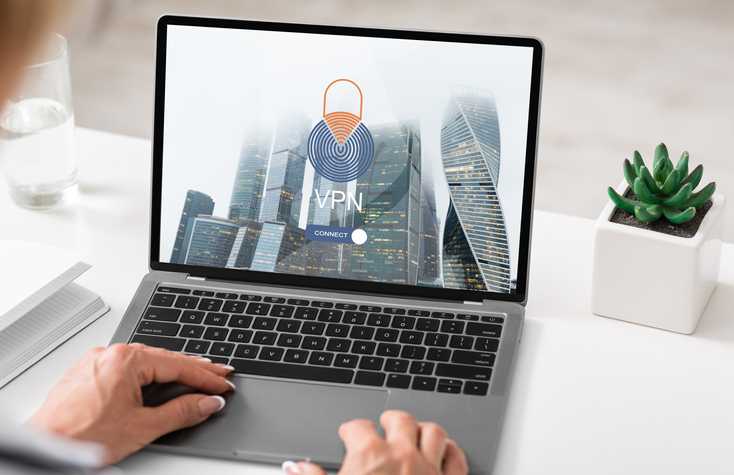 A virtual private network (VPN) is an Internet security service that creates an encrypted connection between user devices and one or more servers. VPNs can be used to securely connect a user to a company's internal network or the public internet.
Businesses typically use a VPN to give remote employees access to internal applications and data – or to create a single shared network between multiple office locations. In both of these cases the goal is to prevent web traffic and proprietary data from being exposed on the open Internet.
How does a VPN work?
The process of routing your traffic through a VPN masks your internet protocol (IP address – the specific number that is assigned to your device when it's connected to a local network) which can otherwise contain a surprising amount of personal information – like approximate location and the name of your ISP.
With a VPN enabled if someone decides to look up your IP address, they'll see your VPN server's location instead of yours.
Virtual Private Networks explained
If you're looking for actual internet anonymity, consider getting a virtual private network. Did you know your internet service provider (ISP) tracks every click you make to compile anonymous browsing logs to sell to advertising companies or government agencies? Unfortunately, your browser's Incognito/Private mode only clears your history, searches, cookies, and login details – but it won't hide or secure your connection from your ISP and other prying eyes. And if you're using an unsecured public WiFi connection – you're basically inviting hackers to view, steal, or manipulate your data.
Prior to the pandemic, the main selling point of VPNs was their ability to improve their users' online privacy and security. However, virtual private networks can be used for more than just connecting to a server for privacy reasons. They can also be used by employees to connect to their own company's private network. Businesses commonly use VPN firewalls to prevent unapproved people from accessing their private servers, but the same software can be used to allow employees entry to a company's server with the proper login credentials to access the network from a home desktop or laptop. Essentially you can use a VPN to connect to your work desktop in order to access the same files, programs, and applications from home.
When you're connected to a public WiFi network, this is perhaps the most important time to use a VPN, even if it's password-protected. If you don't connect to a VPN while on a public network, it isn't difficult for nefarious hackers to crack WiFi Protected Access 2 (WPA2) encryption – which is the most commonly used security protocol in coffee shops, airports, hotels, subway stations, fast food restaurants, and more. Once they crack the network, these nefarious parties use network vulnerabilities for WiFi eavesdropping or "man-in-the-middle attacks" – when a cybercriminal intercepts a transmission between the user and a website at a poorly secured WiFi hotspot. If your connection has been intercepted, these hackers will now have access to your information any time you log in to a financial account as long as you're still connected to the same network.
How to select a VPN
Since there are a huge variety of options when it comes to selecting a VPN, it's important to know what criteria you want your virtual private network to meet. Unfortunately, we don't recommend using any free-to-use virtual private networks due to the vulnerabilities they cause. If you're trying to protect your data, you don't want to use a VPN that may cause additional cybersecurity threats – in fact that is the goal of many free VPNs.
Here are some of the things you should look for when selecting a VPN for your business:
A good track record. Look for an experienced provider with a clear track record. A quick Google search will be able to tell you whether or not the provider in question has made headlines for security breaches or customer data leaks.
Location. The physical location of your VPN ensures that your data doesn't fall under the jurisdiction of intelligence-sharing allies – for example, a VPN located in the U.S., the UK, Canada, Australia, New Zealand, Denmark, France, Norway, the Netherlands, Belgium, Germany, Italy, Sweden, and Spain can technically be forced by the authorities to collect and provide user data to their agencies. Look for VPNs located in the British Virgin Islands, Panama, Switzerland, Romania, or other privacy-friendly countries.
Network size and diversity. Your provider should have enough servers (and server locations) to choose from so you don't have to share the same IP address with a bunch of other users. This is useful because you'll have more bandwidth to spare and are less likely to be detected by services that block VPNs. For example, IP addresses with heavy traffic are generally huge red flags to companies like Netflix, Hulu, Disney+, and other streaming giants.
Customer support. No matter which VPN you choose, you're probably going to run into connection issues at one point or another. It's important to have a reachable, responsible support team in order to troubleshoot these kinds of issues quickly and effectively.
While it's important to consider these factors, it's also important not to choose a VPN based exclusively on its performance in speed tests. The fact of the matter is, your internet experience will almost certainly be faster without a VPN – but we aren't using VPNs to get a faster connection. Factors like trust, server distribution, price, and ease of use are far more important than connection speed.
The best VPNs also have some of these additional features:
AES 256-bit encryption. Advanced Encryption Standard (AES) 256-bit encryption is a super-strong, military-grade encryption protocol that's effectively uncrackable.
A kill switch. If your VPN drops or gets disrupted, a kill switch will enable your device to immediately disconnect from the internet and block all traffic – keeping your real IP address secure.
Split tunneling. Split tunneling tools allow you to choose which traffic gets sent through your VPN, which can conserve bandwidth and prevent bottlenecks.
Multihop connections. This type of connection encrypts your data twice by routing it through two servers instead of one for extra security.
Dedicated IP addresses. Most providers will charge a premium for this feature, as it ensures that your IP address is only assigned to a single user – you. If you use a VPN often, this may be worth it for the faster download speeds.
The Best VPNs for your business
The best VPNs will have a subscription fee, but typically only cost between $2 and $12 per month, depending on the length of the subscription and the number of features included.
Here are some of the best VPNs that we recommend:
ExpressVPN
Express VPN is based in the British Virgin Islands and is one of the best all-around VPNs when it comes to transparency, user-friendliness, server diversity, cross-platform support, and security tools. Although it is one of the most expensive plans on the list, it feels like a premium service without the complexity.
Some interesting features available with ExpressVPN are Parallel Connections – which speeds up your connection time, and Threat Manager – which blocks third-party trackers.
Supported Platforms: Windows, Mac, Android, iOS, Linux, Chromebook, routers, Kindle, Chrome, Firefox, Edge, Apple TV, Amazon Fire TV, Samsung Smart TV, Roku, Chromecast, Nvidia Shield, Playstation, Xbox, and Nintendo Switch.
CyberGhost VPN
One of the best things about CyberGhost VPN is the fact that there are no hidden or delayed fees. The rate that you sign up for on day 1 is the same rate you'll pay throughout your subscription with this VPN, although additional features like a dedicated IP address, a password manager, and access to its maximum-security "NoSpy" servers come with additional subscription fees.
CyberGhost VPN has a huge network with dedicated streaming, gaming, and torrenting services. This VPN also backs up its "no-logs" policy with annual transparency reports.
Supported platforms: Windows, Mac, Android, iOS, Linux, Chrome, Firefox, Amazon Fire TV Stick, Android TV, Apple TV, Samsung Smart TV, LG Smart TV, Chromecast, Roku, routers, Playstation, and Xbox.
NordVPN
NordVPN is a Panama-based provider that has an unrivaled suite of top-notch security features. Some of the best features include a Double VPN – a tool that encrypts your data twice, Obfuscated Servers – which hide the fact that you're using a VPN, and Threat Protection – which guards you against web trackers, malware, dangerous websites, and annoying ads, and Onion Over VPN – which adds extra protection when you're accessing the Onion network and removes the necessity for a Tor browser. Nord VPN also includes add-ons like dedicated IP addresses, cloud storage, a data breach scanner, and a password manager for additional fees.
Supported platforms: Windows, Mac, Android, iOS, Linux, Chromebook, Chrome, Firefox, Edge, Android TV, Amazon Fire TV Stick, Chromecast, Kindle, Xbox, PlayStation, Nintendo Switch, and Raspberry Pi.
Although a quick Google search would reveal NordVPN was hacked back in 2018, the attack was isolated to only one NordVPN server and affected only between 50 to 200 users without compromising any traffic laws because of the company's strict no-logging policy.
TunnelBear VPN
If this is your first time using a VPN, TunnelBear may be your best choice. The TunnelBear app consists of a world map with tiny icons representing servers in different countries. To connect to a server, just move the toggle switch to "on" and wait for the bear in your current location to navigate to that server.
Although TunnelBear is simple to use, it isn't a perfect service. With limited app support, a no money-back guarantee, and a small server network – TunnelBear is best used as an introductory to VPNs. Not to mention the company is based in Canada, which is one of the countries that may be forced by the authorities to collect and provide user data to their agencies. Still, TunnelBear can be used as a short-term solution if you're someone who wants to test out a VPN for the first time.
Supported platforms: Windows, Mac, iOS, Android, Chrome, and Firefox.
Proton VPN
Founded by scientists at MIT and CERN, Proton VPN made the list because of its commitment to consumer privacy. In fact, Proton VPN has stashed its critical infrastructure inside a high-security Swiss data center that requires biometric access. On top of that, it maintains open-source apps – meaning anyone can scrutinize the code leading to many audits by independent security experts.
Although it doesn't offer 24/7 chat support or split-tunneling to non-Windows/Android users, Proton VPN is a decent pick if you aren't concerned with using a VPN with a huge server network.
Supported platforms: Windows, Mac, Android, iOS, Linux, Chromebook, and Android TV.
Get help setting up a VPN
Do you need help selecting and implementing a virtual private network (VPN)? If your IT team is out of its depth, contact the technicians at Computer Service Now. They will help you choose the best VPN for your business based on the services pricing and features. Next, they will help you establish a connection and make sure it's performing properly.
Computer Service Now has offered various computer services, IT consulting, conference room design, and more for over 30 years now. For IT projects from small to large, Computer Service Now has the experience, technicians, and variety of available services to provide the tech support your business may need. Contact us on our website or call today at 513-422-1907 for further assistance.