US SMB Opportunities: Tourism in America
Friday, February 8, 2008
Posted by John Beagle
The travel and tourism industry suffered a significant decline in sales in the aftermath of September 11th. Reluctance to travel has had an overall negative impact on several aspects of the industry, made up almost entirely of small businesses (SMBs).
Today, tourism to the US is making a recovery according to IPK International World Travel Monitor helping thousands of small businesses prosper once again. This is partially due to the weak dollar making travel to the US a real bargain.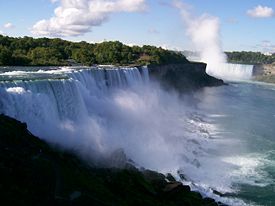 Tourism Upside
Tourism levels are still below pre-911 levels and have room to grow. SMBs that benefit the most upside potential include hotels and lodging, restaurants, souvenirs, street food vendors, vacation property rentals., laptop computer rentals and retail.
Photo: Niagara Falls is a popular destination place for European tourists.
17% Growth in Travel to The US from Canada and Overseas
International Visitation Up 17 Percent in November 2007 Spending Exceeded $11.2 Billion for the Month - Year-To-Date Arrivals 11 Percent Above 2006
Visitation from Western Europe, accounting for 47 percent of overseas arrivals, was up 14 percent in November 2007 and 12 percent year-to-date. Arrivals from the United Kingdom were up almost 11 percent in November and 7 year-to-date. Visitors from the U.K. accounted for 41 percent of all Western European arrivals this year.
Canada Alone was Up 30%
Canadian visitation was a "driver," up 30 percent over November 2006 and 10 percent for the year. Air arrivals were up nine percent for the month and six percent year-to-date.

Target SMBs
Tourists visit the U.S. to see natural wonders, cities, historic landmarks, and gambling venues. Top destination cities include:
Atlanta, Georgia - birthplace of Martin Luther King Jr. and Coca-Cola, Georgia Aquarium, CNN Center and Centennial Olympic Park
Austin, Texas - State capital of Texas, universities, outdoor activities, live music, South by Southwest
Baltimore, Maryland - important site for American history, Inner Harbor
Boston, Massachusetts - important site for American history and several universities
Charleston, South Carolina - American history, several universities, beaches, golf courses and Arthur Ravenel, Jr. Bridge
Chicago, Illinois - skyscrapers, blues music, museums, ethnic diversity and architectural phenomena
Cleveland, Ohio - Rock and Roll Museum
Dallas/Fort Worth, Texas - Western/Texan culture
Denver, Colorado - museums, rocky mountains and ski resorts
Honolulu, Hawaii - beaches, volcanoes, Hawaiian culture and cuisine
Las Vegas, Nevada - casinos and entertainment
Los Angeles, California - beaches, the movie industry and Disneyland
Louisville, Kentucky - Kentucky Derby, Falls of the Ohio, birthplace of Abraham Lincoln, Frazier International History Museum, and Bourbon Festival
Memphis, Tennessee - Graceland, Beale Street, National Civil Rights Museum and Sun Studio
Miami, Florida - South Beach, Downtown Miami, architecture, Miami MetroZoo, festivals, Hispanic culture and Everglades National Park
Milwaukee, Wisconsin - Festivals, lakes, Miller Brewery
Minneapolis/St. Paul, Minnesota - Mall of America, lakes
Myrtle Beach, South Carolina - beaches and resorts
Nashville, Tennessee - country music
New Orleans, Louisiana - French Quarter, birthplace of jazz, Louisiana Creole cuisine, Garden District, festivals, and National World War II Museum
New York City, New York - cultural attractions, skyscrapers, several American landmarks and Coney Island
Orlando, Florida - Walt Disney World Resort, SeaWorld and Universal Orlando Resort
Philadelphia, Pennsylvania - important site for American history, Independence National Historical Park