Backup: A Vital Component of Information Protection
Thursday, December 6, 2012
Posted by Andy Wendt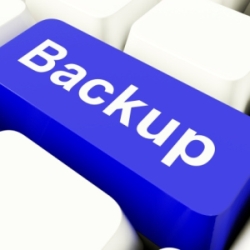 By Richard Brown, President, Data West Corporation
SMBs today are dealing with a lot. We have many of the same challenges that large enterprises do – such as BYOD, cloud computing and virtualization – without a lot of IT staff to keep things running. And as president of Data West Corporation, I don't have time to spend 40 hours a week on technical issues. But if anything goes wrong with our information, it would be a disaster. We provide billing software for hundreds of utilities throughout the U.S., which means that security is top of mind for us. We understand that all the sensitive information flowing in and out of companies must be protected.
We have a lot of information that has to be backed up on a daily basis, both to serve our customers and also because our employees are constantly working to improve our Billmaster products. They are always creating and testing new systems virtually, with hundreds of databases to keep track of. In conjunction with physical systems, it presents a real challenge. But it's vital to our operation to maintain backups to keep us from having any downtime.
The most important consideration for us in a backup solution is that it handle both virtual and physical environments. This is only going to become more important as time goes on and virtualization continues to grow, especially because visibility into VMs presents a constant challenge. Backup solutions can be inefficient when scanning the same file multiple times. We wanted to avoid that, and find a unified solution for both physical and virtual environments – one that that is easy to use and requires little time to keep current.
In the end, we found the solution that worked best for us, from Symantec. With the right backup tool, we are able to ensure constant payment processing availability for our customers with minimal need for manual intervention. Now I only need about 10 minutes each day to ensure that we have a complete daily backup, which can save us significant time and money in case data loss does occur.
With the increasing emphasis we're seeing on information rather than just physical assets in today's business, implementing a secure, user-friendly backup solution is one of the best decisions an SMB can make, especially if it allows for the continued adoption of new technologies. Planning for virtualization is especially important, but with preparation you can make sure that all your information is protected against data loss.