Buy the Right Technology for your SMB or Suffer
Friday, March 30, 2018
Posted by Reagan Reeve
Most small business owners when starting up have tight budgets and some even start on shoestrings. Many don't plan far enough in advance for the ups and downs of operating a business. It's a well reported fact that ninety percent of all new businesses fail. Even with the odds stacked against them, determined and optimistic entrepreneurs take the plunge of self-employment by the horns.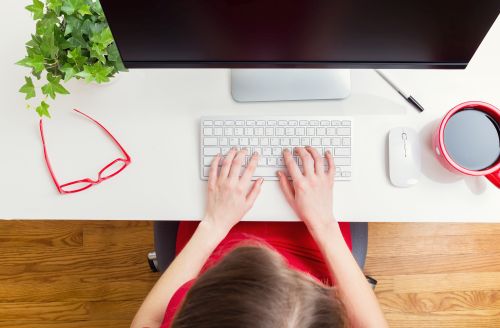 That being said, it is important to have some funds whether it be self-financed, or borrowed and of course a well thought out budget and business plan. Many businesses fail because they forgo this area of the business simply because it seems too difficult or just feel it isn't needed. The Small Business Administration as well as SCORE both can help new business owners develop a clear plan and budget.
Many new startups are able to utilize a spare room in their home as an office until the business grows to a point where they absolutely must leave the comfort of their home office and delve into buying or leasing space. Many may rely on a computer or laptop they have for home use, which can be a grave error when it comes to operating a business for several reasons.
First, using a home pc is not tax deductible, you cannot write off the cost of it or depreciate it when it comes time to settle up with Uncle Sam. Tax laws are more complex than many of us want to think about, but in order to claim a computer it must be 100% for business use. Do check with your accountant and the irs.gov web site.
Next, using a home computer is detrimental to your business, because most basic home pc's are made for home use - some games, doing homework, surfing the net and a few other things. They are not really designed to run sixteen hour days seven days a week. Most of them are used on average about 2-4 hours a day and will last a couple of years if they are well maintained. That is another topic I may delve into some day.
Finally, business machines come with better processors, motherboards, hard drives etc. The cost is usually much higher than the standard home computer, but many novice users only consider the value of that investment when their computer has a major failure and the manufacturers do not have consumer products on a high priority list to repair them. This is how it worked out when I was working for one of the companies that dispatched technicians to repair home computers.
Here's a hypothetical scenario: your computer fails, you call tech support. Tech support runs you through a series of tests to determine the issue. Once the issue is determined, they order the part and send the work order to a technician in your area. The technician who is a contract worker who is paid a set amount for each call. They wait to receive the part, then call the customers to set an appointment time. Think about how your cable company sets a time. These contractors do as many jobs in a day as they can so they get a decent paycheck. Many times those techs work for another company that has contracted with the company that contracted with the contact company. Sounds like a soap opera.
So a tech comes to your house to replace damages hardware and determines the part was not the issue but that it was another issue. So, from your house, the tech contacts the tech support company so the new part can be ordered and then shipped to the tech himself and that they will call you when it comes in. Can you imagine how frustrating this would be? I can tell you my first day live on the phone with that company with just a couple days of training , my first call went like this. "Hi, thank you for calling Tech Support How can I help you." I hear a woman sobbing on the other end, then she says "Who do I need to sleep with to get my computer fixed? I am a tall blonde fit and attractive." As a single man I could have replied to this in several ways, however, I decided to be as professional as possible. So I replied "Ma'am, I don't think that is a requirement of your warranty, please tell me what's going on so perhaps I can help you."
It turns out that she worked from home as a writer and she needed her computer but couldn't just go out and buy a new one. The motherboard went out and the tech was dispatched the wrong part several times. It had been over three months since she first called in. She is lucky because in my case, I put her on hold walked over to the tech support people that dealt with the technicians and were responsible for dispatching parts and then was told I needed to call the shipping warehouse in Memphis to get the part overnighted. So I did and she finally got the computer fixed. FYI most customer service support will say something, like I have done everything I can, you will be contacted as soon as possible."
So what else did I learn while working for that company? I learned how to fix my own computer, but I also learned that there was a separate line for tech support for business machines from extremely high tech to SMBs. When you buy a business machine, and you should confirm when you make the purchase, you generally get next day onsite service and parts barring weekends.
A small business owner can handle a one day down, even rent a computer while theirs is waiting to be worked on. So be smart, have a plan in case there is a failure, like knowing where you can get a rental if your computer will be down for an extended amount of time, but more importantly purchase equipment that will work when you need it to.
--------
Jim Palmer is the Marketing Director Spokesperson for
BuyDirectUSA.com
launched in 1998 dedicated to promoting products and services in the USA to help keep US manufacturing thriving and creating jobs for Americans. If you are a US manufacturer and need help promoting your products or services, contact us.