Study: SMBs Becoming Aware of The Cloud
Wednesday, January 25, 2012
Posted by Brawlin Melgar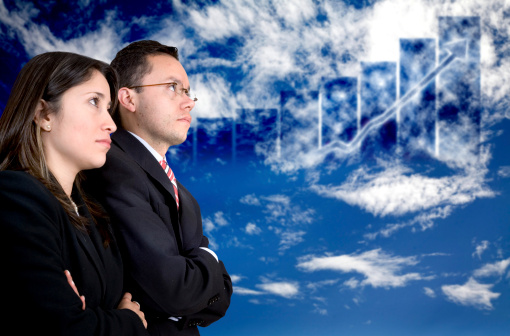 According to a new SMB study from Webtorials, commissioned by Fonality, there has been a 14 percent increase in awareness of the capabilities of cloud-based technology compared to last year, which suggests a broader adoption of hosted solutions is pending.
"As awareness about the benefits of cloud solutions gains momentum, these findings suggest that SMBs are beginning to connect the cost-saving potential of these services to their overall mission of reducing expenditures and minimizing TCO," said Fonality CEO David Scult. "While controlling costs by investing in new technology seems contradictory, cloud-based communications tools, in particular, can be leveraged to drive competitive differentiation and maximize operational expenses. As a result, this technology can help spur growth through enhanced productivity and efficiency."
The expanding adoption of cloud-based solutions will help to dramatically level the playing field as SMBs can benefit from resources previously reserved for larger competitors, such as communications and CRM tools.
Prominent findings of the study include:
- The cloud is perceived as the "great equalizer" in terms of delivering enterprise-grade capabilities with less expense
- SMBs are increasingly looking to mobile communications for greater flexibilit• Containing cost and reducing TCO remains the primary goal for SMBs in 2012
- Education about the capabilities of cloud-based technology has significantly increased and is perceived as a "great equalizer" against larger competitors
- Flexibility and mobility with communications solutions are gaining importance with almost one quarter of respondents
- Need to provide access to communications solutions for remote employees, cited by 85 percent of respondents
- 85 percent of those surveyed see a need to improve communications solutions for remote employees
"It is encouraging to see that SMBs are taking the initiative to learn more about cloud-based services," said Steve Taylor, editor-in-chief and publisher for Webtorials. "This is a needed first step for SMBs to realize the tools and solutions available to achieve the goals they stated as unattainable."
To access the complete "2012 Small and Medium-Sized Business Communications Plans and Priorities State-of-the-Market Report," visit http://www.webtorials.com/content/2012/01/2012-smb-plans.html.
About Fonality
Fonality is North America's fastest growing business communications company and a leading provider of cloud-based VoIP and Unified Communications solutions for small and mid-size businesses. With a unique software model approach, Fonality provides all the features of legacy providers without the cost or complexity. Founded in 2004, Fonality has delivered more than 3 billion phone calls across the cloud while enabling more than 1 million users of open-standard based communications software. Investors include Intel Capital, Draper Fisher Jurvetson and Azure Capital Partners. Visit www.fonality.com for more information or call 877-FONALITY.