Goats, a Bike and Elephants Benefit SMB Bookstores
Friday, November 10, 2017
Posted by Reagan Reeve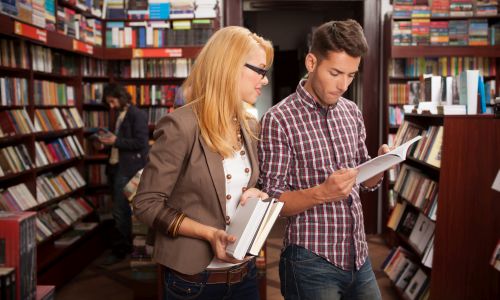 Today, Amazon is king and there is a Barnes and Noble in every city. It's a struggle for many smb bookstores to stay in business. They survive thanks to loyal customers and IndieBound.org.
Michael Chidsey and Christian Madsen, author and illustrator of the new children's books "Thaddeus The Happiest Little Mountain Goat Ever" and "Today You Learn To Ride Your Bike," are fans of the independently owned The King's English Bookshop and chose to release their books there. Through The King's English they learned they could reach a national audience with IndieBound.org.
What is IndieBound?
IndieBound.org works directly with independent bookshops and the American Booksellers Association to give them a way to sell online so they can survive against large franchises. IndieBound enables the power of "local first" shopping. It allows consumers to feel their actions are part of a larger picture.
About the Books:
"Thaddeus The Happiest Little Mountain Goat Ever" tells the story of a goat who "didn't like living on the rocky cliffs of a tall, tall mountain" where the hunt for shrubs and grass is perilous. Thaddeus spies a green valley and heads for the lusher pastures, only to find himself lonely without his family. The message: He realizes it is "far better to be on the mountain tops with his family than to be alone in the green valley."
The cartoon-like pictures show goats cheerfully falling off their snowy perches, giving theatrical parents the chance to use different character voices when they read it aloud. As he wrote the story, he imagined his mother reading it. And she does for the electronic version; available as a free video and audio download with every book.
"Today You Learn to Ride Your Bike" is about a boy and his adventures on two wheels. The beautiful watercolor illustrations by Christian Madsen start in black and white as the boy rides in his neighborhood. They turn to full color as, in his imagination, the boy rides out of town past elephants, pigs, monkeys and a dinosaur.
"When I was 5 years old, I got a bike. I wasn't allowed to leave the block but I had an over-active imagination," said Chidsey, "On my bike I felt like I had the freedom to go anywhere."
Chidsey's day job has him producing kid-friendly viral content that was featured on "America's Got Talent" and "Jimmy Kimmel Live!" But he wants his young readers to discard the digital devices in favor of books. "I would hope it would inspire kids to put down the iPads and go ride their bike and let their imagination take over," he said.
The audio and video version is read by Bill Allred, who hosts a radio show on X96.
Both books were self-published through Sourced Media Books and retail for $17.99. They are available at IndieBound.org.
About the Author:
Michael Chidsey graduated from Utah State University in Broadcast Journalism and owns Sqwak Productions. His work has been seen around the world winning the awards: Cannes Lions (France), London International Awards, Promax Gold (India Broadcast Awards) and New York Festivals World's Best Advertising. He lives with his family and pet dog.
About the Illustrator:
Christian Madsen graduated from the University of Utah in Animation/Film. Christian hikes in the highest mountains to the hottest deserts.
Graphics/video of the books, author/illustrator, and a free print article can be downloaded here: https://spaces.hightail.com/receive/6JdBO8OHYX
If your local store does not carry these books, IndieBound store, The King's English, ships worldwide:
Thaddeus The Happiest Little Mountain Goat Ever:
http://www.kingsenglish.com/book/9781945431050
Today You Learn To Ride Your Bike:
http://www.kingsenglish.com/book/9781945431067