SMB Computing: The Cloud. Is It Just Marketing Fog?
Monday, September 26, 2011
Posted by Brawlin Melgar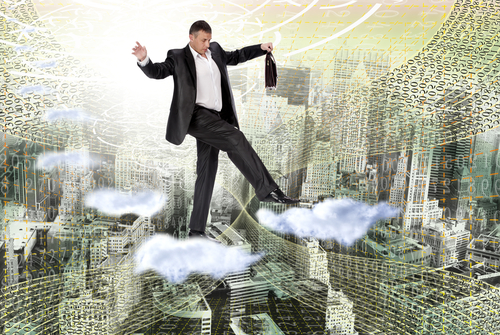 "Cloud Computing: It sounds like the perfect solution for SMBs, right? Hooper's answer might surprise you."
by Paul Hooper
Pick up any technology publication and you will be hard pressed to get past the first page without seeing a reference to 'the cloud'. Every vendor is talking about it as though it is the answer to all of the challenges faced by SMB IT. Is it really that promising? Can the cloud really deliver a truly agile IT infrastructure and organization?
The simple answer is yes. It holds more promise for small and midsized enterprises than any other technological advance in the recent years. The cloud offers the potential to establish, to grow and to evolve a business without requiring complex, expensive and resource-demanding infrastructure. The collection of servers that you would have purchased five years ago can now all be replaced by cloud based services, and as a result, the capital that would have been tied up in IT equipment is now available to invest in assets to grow the business. And in parallel, the operating expense and depreciation is now replaced by a service fee that has a linear relationship to changes in your headcount, business and application requirements. Email, sales force automation, customer relationship management and enterprise resource planning are a few examples of the thousands of applications that are all available to enterprises of all sizes through "the cloud".
However, this doesn't mean IT is a thing of the past. Far from it. Its role has evolved and, in many ways is more challenging than it was in the past. Your organization is mobile, your security and compliance challenges more demanding, and your expectation of "always on" infrastructure, never higher. In this new cloud-enabled world, your IT team provides the cohesive focus to build and maintain the enterprise of the future – highly mobile, traffic intensive, cloud-enabled and cost-effective – and they do this through the next generation of "network visibility". With the volume of information rising, and the distribution that much wider, IT needs to be able to have visibility 'tentacles' that reach out to all corners of your network. Since inception, Gigamon has focused on this specific challenge – powerful visibility to network traffic.
Your enterprise can make the switch to 'the cloud'; with the right combination of cloud-services, powerful visibility across your complete infrastructure and a forward looking IT team, you can realize the promise and value of Agile IT.

About Gigamon
Gigamon® provides intelligent Traffic Visibility Networking solutions for enterprises, data centers and service providers around the globe. Our technology empowers infrastructure architects, managers and operators with unmatched visibility into the traffic traversing both physical and virtual networks without affecting the performance or stability of the production environment. Through patented technologies, the Gigamon GigaVUE® portfolio of high availability and high density products intelligently delivers the appropriate network traffic to security, monitoring or management systems. Gigamon serves the vertical market leaders of the Fortune 1000, as well as many small to mid-sized business spanning 40 countries. http://www.gigamon.com/