SMB Web: hotfrog can help with Traffic
Tuesday, March 15, 2011
Posted by Brawlin Melgar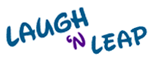 SMBs Experiences Significant "Leap" in Web Traffic with hotfrog
With over 20 million business listings in the US, hotfrog is the world's fastest growing online business directory*. Soon after South Carolina-based inflatable rental company, Laugh N Leap, listed on hotfrog, web traffic significantly increased and the company began to see the benefits of online marketing.
Overview
Laugh N Leap has provided bounce houses, inflatable obstacle courses and waterslides that bring fun and excitement to children's parties in the Columbia Metro area of South Carolina since 2009. After owner Robert Brannan started renting out the inflatables on a freelance basis in late 2008, word spread quickly and the demand warranted that he create an official business. Currently, Laugh N Leap brings joy to all sorts of parties – serving parents of children ages three to 12, as well as schools, churches and daycares hosting special events. With three towns in the Columbia Metro area, Laugh N Leap regularly delights the locals with its party inflatables.
Challenge
Starting a small to medium business (SMB) comes with a full set of challenges, with one of the most significant ones being marketing and creating awareness for your brand. Robert initially gained popularity through word of mouth, providing bounce house rentals on a freelance basis. However, he soon recognized the need to get Laugh N Leap's name into the many towns of the Columbia Metro area. Knowing that the Internet was the fastest way to reach his customers, Robert knew he needed to focus on online marketing from the very beginning in order to be successful.
Solution
Aware that a listing in an online business directory such as hotfrog would help drive traffic to Laugh N Leap's website, Robert created an upgraded listing with hotfrog's AdVantage. The result was a sleek, professional online ad without the clutter of banner ads. hotfrog also provided Robert the opportunity to create individual postings for his different products. With several different names for bounce houses – jump castles, moon bounces, moonwalks – the individual postings brought potential customers to Laugh N Leap no matter how they searched for the product. These individual pages provided potential customers with a comprehensive view of Laugh N Leap's offerings, while driving traffic to the Laugh N Leap website.
Result
When asked if hotfrog helped to increase his website traffic, Robert Brannan's immediate answer was, "Absolutely, I've had approximately 430 click-throughs to my website over the past 12 months." Laugh N Leap's owner knew how important online marketing would be when he started his SMB and he has been impressed with hotfrog's solution. In the last year, Laugh N Leap has received almost 4,000 views on hotfrog with 438 total leads from the listing. Robert is excited to receive even more success as he continues his partnership with hotfrog and embarks on his peak rental season in March.
hotfrog URL:http://www.hotfrog.com/Companies/Bounce-House-Rental-Columbia-SC-LAUGH-N-LEAP
* Accurate as of December 2010