From SMB to $1 Billion in 11 Years
Wednesday, November 3, 2010
Posted by John Beagle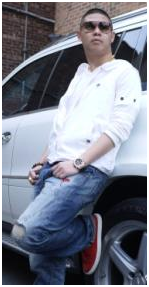 "..this is about a 27 year old entrepreneur who made his first million at the early age 16 and has now reached $80 million with his company, TyKoon Enterprises. He's partners with leading European Designer Domenico Vacca on his jeans line, partners with hip-hop artist Young Jeezy in his 8732 Apparel brand, and has recently launched his own denim line – Private Stock. Koon is quickly making his way to his first Billion before hitting 30!"
Jon Koon began making millions at the age of 16 when he opened the first-ever auto-parts business in New York City known as "Extreme Performance Motorsports" – an aftermarket auto company that essentially became one of the main suppliers for today's hit television series "Pimp My Ride." Shortly thereafter, while studying at Georgetown University, Koon took his storefront one step further, filling a void in the industry with his first overseas manufacturing business, Kanoochi –an automotive parts brand that continues to distribute worldwide in over 20 countries.
Leveraging his strong "guanxi" (relationships as we call it in the U.S.) in the automotive production industry, Koon quickly became an insider among the top manufacturers in Asia opening doors into unknown territory for the young entrepreneur - garments. Koon's new partnerships enabled him to establish Koon Enterprises, a licensing division and subsidiary private labeling division, which gave birth to the distinguished headwear manufacturing company that distributes to top brands like Rocawear, LRG, PRO-Keds, Honda, Costco/Federated Private Label and more.
Building to his already impressive resume in the U.S and Asia, Koon acquired 8732 from Roc Apparel Group in 2008 and started Young Jeezy 8732 Apparel Ltd, becoming an exclusive partner with platinum recording artist "Young Jeezy." Koon earned the company over $40 million in sales, playing an integral part in increasing their profit by 500%, during the recession. Under Koon's management, 8732 became one of the top 3 selling urban brands in the U.S., distributing to over 1,000 retail doors across the country.
Between his growing businesses in Shanghai and New York City and constant traveling amid both, Koon developed a repertoire amongst the social elite in both cities. With exposure to each culture, Koon saw an opportunity to introduce the first Asian inspired "couture streetwear" to the U.S.
While Koon developed ideas for his own collection, his fashion career continued to prosper as he collaborated with a number of brands and well-known designers including Adidas, and his most recent partnership, Domenico Vacca – the world renowned sartorial maker/designer for high end and superb quality clothing. Working with top manufacturers and notable fashion houses, Koon was able to establish a cult following amongst celebrities and industry insiders, enabling him to boast a robust network to support his next move – the debut of his own label.
An established entrepreneur, Koon is now expanding his franchise and launching the first ever "Asian Steetwear Couture" on the market, Private Stock Denim for Spring 2011. Private Stock represents the journey through the private closet of the world's most infamous denim junkies, signifying true distinction and exclusivity: custom weaved Japanese denim, rare indigo dyes, secret wash formulas, and a perfectionist approach to detail, fit and finish, giving each style its own identity. This one-of-a-kind brand, Koon hopes, will enter him into the next chapter in becoming a billionaire.