VIDEO CONFERENCING SOLUTION FOR THE SMB MARKET
Monday, June 7, 2010
Posted by Brawlin Melgar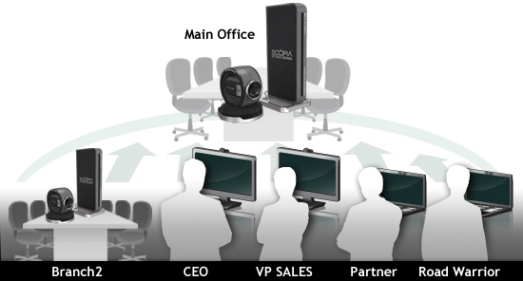 Integrated Solution Provides Complete Multi-site HD Video Conferencing with Remote Desktop Connectivity in a Low Cost, Easily Installed Offering
TEL AVIV, June 7, 2010 – RADVISION® Ltd. (Nasdaq: RVSN), a leading technology and end-to-end solution provider for unified visual communications including video network infrastructure, developer tools and high definition (HD) room, desktop and mobile video conferencing systems, today announced a unique video conferencing solution especially suited to the communication requirements of Small and Medium Businesses (SMB) – the SCOPIA XT1000 SMB solution – providing an all inclusive HD video conferencing room system, with integrated desktop conferencing and multi-party MCU.
Built on the recently introduced SCOPIA XT1000 HD room system, with the highest capacity embedded MCU in the industry today, the new SCOPIA XT1000 SMB solution creates a new video conferencing product class by combining HD room system capabilities, embedded multi-party conferencing, desktop conferencing and firewall traversal into the only integrated solution of its kind available in the market.
The SCOPIA XT1000 by itself is a very compelling solution for the SMB market with its industry leading combination of high performance, advanced features and pricing. Now, with its integration with SCOPIA Desktop, it provides the ability to host a conference with full multi-party HD video and data collaboration, including a combination of room systems, SCOPIA Desktop software users both inside and outside an organization and SCOPIA VC240 desktop conferencing system users. Its fully integrated deployment model does not require detailed technical skills to install or manage making it ideal for the SMB market.
"We believe the new SCOPIA SMB solution will be a great success for us," said Daniel Skitnevsky, COO of Seal Telecom, one of the leading audio and video conferencing distributors in Brazil. "Competitive solutions are considerably more expensive and much more complicated to install and manage. Being able to so easily deploy an entire video conferencing solution from the high definition room system to the desktop will be very popular with our customers."
Key features of the SCOPIA XT1000 SMB solution include:
-
SCOPIA XT1000 HD Room System – with dual 1080p video, full band audio and high resolution data sharing.
-
4 or 9 Participant HD MCU with Continuous Presence – the highest capacity embedded MCU in the industry today.
-
HD Desktop Conferencing – for the PC and Mac, fully extending the room system experience to the desktop, including HD video and data collaboration.
-
Desktop Client Distribution and Licensing – no registration or user specific licenses enable desktop conferencing to be installed on an unlimited number of PCs and Macs, allowing desktop participation from virtually anywhere even for users outside the organization, such as with customers, suppliers and prospects.
-
Automatic Firewall Traversal – providing an effective way to extend video communications beyond enterprise boundaries to workers at home and on the road.
"Historically the SMB market has been underserved by the video conferencing industry because of high priced and complex systems, ultimately delaying the adoption of video conferencing by SMBs," said Robert Romano, Vice President of Enterprise Marketing for RADVISION. "This unique integration of the price/performance of the SCOPIA XT1000 and our market leading SCOPIA Desktop provides an affordable and deployable solution ideally suited to the requirements of the SMB market."
RADVISION's new groundbreaking SCOPIA SMB solution will be demonstrated at the InfoComm 2010 Exposition in Las Vegas, June 9 - 11, booth N2231 in the Conferencing Pavilion.
About RADVISION
RADVISION (Nasdaq: RVSN) is the industry's leading provider of market-proven products and technologies for unified visual communications over IP, 3G and IMS networks. With its complete set of standards-based video communications solutions and developer toolkits for voice, video, data and wireless communications, RADVISION is driving the unified communications evolution by combining the power of video, voice, data and wireless – for high definition video conferencing systems, innovative converged mobile services, and highly scalable video-enabled desktop platforms on IP, 3G and emerging next-generation IMS networks. To gain additional insights into our products, technology and opinions, visit blog.radvision.com. For more information about RADVISION, visit
www.radvision.com
.