National Small Business Week - 2022 Edition
Wednesday, April 13, 2022
Posted by Robert Beagle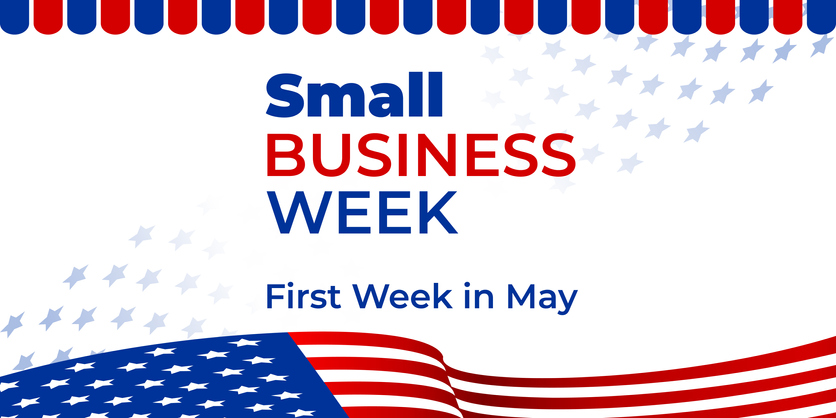 The head of the U.S. Small Business Administration (SBA), Isabella Casillas Guzman, has announced that 2022 National Small Business Week (NSBW) will span from May 1-7 this year. According to the SBA, this year's NSBW will be themed 'Building a Better America Through Entrepreneurship' in order to aid in support for America's 32.5 million small businesses.
What is National Small Business Week?
According to Administrator Guzman, "National Small Business Week is a time to honor and celebrate America's entrepreneurs and innovative startups. This year's theme, 'Building a Better America through Entrepreneurship,' celebrates the resiliency and tenacity of America's entrepreneurs who are doing their part to power our nation's historic economic comeback. While there is more work to do, under the Biden-Harris Administration, we are on a path toward building a better, more competitive American economy centered around families, workers, and small businesses. This year's NSBW will offer entrepreneurs in rural, suburban, and urban communities across America a week-long event that will highlight the tools and information they need to continue to power our economic growth, strengthen our supply chains, and deliver the products and services Americans depend on every day. I look forward to recognizing our small business giants and their tremendous impact on our economy and communities across the nation."
This year's NSBW will acknowledge small businesses across the nation for their resilience, ingenuity, and creativity. Partners of the SBA will also be recognized for their involvement in entrepreneurial development, disaster recovery, government contracting, financial development, and overall support for small businesses and entrepreneurship.
Virtual Summit from May 2 through May 5
This year, the SBA and SCORE will co-host a free, four-day virtual summit from May 2 to May 5 to honor the nation's 32.5 million small businesses for their perseverance over the last few years.

SCORE is the nation's largest network of volunteer expert business mentors and is dedicated to helping small businesses get off the ground, grow, and achieve their goals. Since 1964, SCORE has provided education and mentorship to more than 11 million entrepreneurs. SCORE is a 501(c)(3) nonprofit organization and a resource partner of the U.S. Small Business Administration (SBA).
The goal of this summit is to continue to aid these SMBs, focusing on access to critical federal resources, educational workshops, and networking to help our nation's entrepreneurs pivot and grow in the face of any challenge, seize new opportunities, and make sure the dream of starting a small business is in reach for every American.
According to SCORE CEO Bridget Weston, "For anyone thinking about starting or growing a small business, this event will connect entrepreneurs with a wealth of industry experts and crucial information to help them achieve success."
History of NSBW
National Small Business Week has been recognized for more than 51 years by each President of the United States, highlighting the critical contributions of America's entrepreneurs and small business owners. After all, more than half of Americans either own or work for a small business – creating about two out of every three new jobs in the United States each year.
Each year the SBA highlights the impact of outstanding entrepreneurs, small business owners, and others from all 50 states and U.S. territories during National Small Business Week. These SMBs are an integral part of our economy – creating jobs, driving innovation, and increasing America's ability to compete on a global scale.
Publish with SMBNow.com
SMBNow.com has been a leader in curated content for over 15 years, which would make a publication here a great complement to your company's marketing and public relations campaigns.
Publishing a press release or original news story on a blog that relates to your business' industry not only builds your brand and allows for long-term benefits of extra online publicity, it also is a great way to establish your SEO for your business.
To submit an article, first tell us a little bit about yourself, your company, and why you'd like to publish on SMBNow.com.
Once you've submitted a form, you'll be given instructions on how to submit your article via email from SMBNow.com. Keep in mind that there are guidelines that your article and company must fall under in order to have your post published.