Professional Security Camera Installers Near Me
Monday, June 29, 2020
Posted by Robert Beagle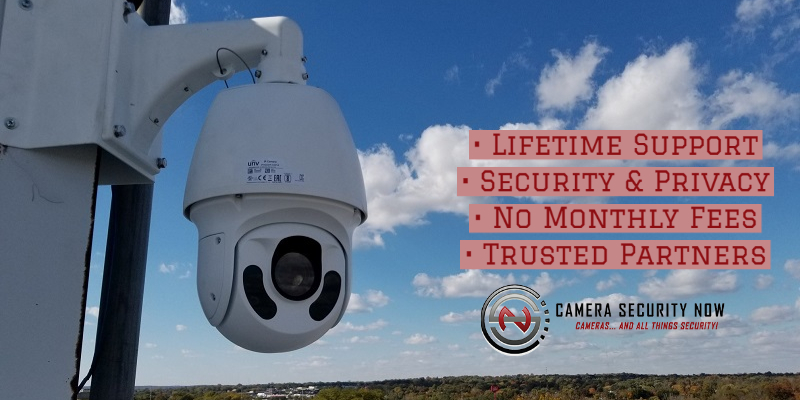 When it comes to buying security systems, you have to be careful to look out for terminology that is designed to confuse you into purchasing equipment that doesn't perform as advertised or requires a subscription service after the fact. Because of these factors, who you decide to purchase your system from can be more important than what features the manufacturer claims come with their products or how much you spend on your camera. This is one of the many reasons why it is often better to consult with a trusted local business when considering purchasing and installing a security system for your home or business, rather than dealing with security corporations that can't guarantee lifetime support, privacy, or security for their own products.
Lifetime Support
One of the biggest problems consumers have with companies like Ring and Arlo is that these companies can't guarantee lifetime support, even if they advertise that they do. Their guarantee is more of a promise that they will help you as long as their device is supported and the company is in business.
Arlo, which used to be owned by Netgear, was formerly VueZone. In 2019, VueZone cameras lost all support when Netgear discontinued its services. Subsequently, all VueZone users' cameras became unusable due to:
● Hardware no longer working with the cloud
● Videos/photos that were stored are no longer retrievable
● No access to the web app and mobile app
● Service plans were no longer supported by VueZone or Netgear
● Customer support no longer provided technical support
Instead of having the security system you bought "held hostage" by companies that won't be around to provide support forever, most well-managed businesses have their security systems provided by a business they know and trust. When you have your system installed by a reliable contractor like Camera Security Now, they'll never require you to sign up for a monthly contract to view your own footage. Once you pay for the cameras and initial installation, you'll have complete access to your feed and recordings. Furthermore, you'll have a guarantee that Camera Security Now will be around to provide your support for as long as you own the system. After all, Camera Security Now has been in the security industry for over 30 years now. You'll also have the ability to contact them anytime for support, or even submit support tickets online, for fast and personable service.
Guaranteed Privacy & Security
Is your security camera vulnerable to hackers? Amazon's Ring camera was hit with a class-action lawsuit over in-home security breaches in January 2020. After numerous reports of hackers gaining access to Ring Cameras and spying on or otherwise harassing homeowners through the camera's speaker, the class-action lawsuit "scathes that the company has not taken responsibility, apologized, or outlined any measures it is taking to bolster security." Nest has experienced similar security breaches, one in January 2019 cited a report of a hacker gaining access to the Nest system and shouting obscenities, turning up the Nest-connected thermostat to 90 degrees, and threatening the family.
These companies' expensive legal teams tried to tell the media that it was the customers' fault, as they used passwords that were compromised or otherwise exposed through breaches on other websites. Whether this is true or not isn't the issue, the fact that they could easily set up safeguards in order to prevent this from happening is the problem with these security companies.
Yet another good reason to go with a trusted security company for a more personable experience. With a security company that specializes in local installation, you'll have a security technician that handles your entire system personally. That means he'll walk you through every step from wiring and installing the cameras, assigning IP addresses, resetting passwords, setting up features, and everything that comes in between and you'll continue to receive personal support after your installation ends.
Minimize False Alerts
Frequent and recurring false motion detection alerts are the main reason why many security experts are saying home security systems like Ring and Nest are already obsolete. After all, the novelty of having motion detection alerts goes away when you receive 25+ false alerts a day from things like wind blowing, squirrels running by, cars in the distance, or other things that wouldn't set off a motion detection alert had the proper masking technique been used by a certified security technician.
Southwest Ohio Security
Located in Middletown, Camera Security Now provides regional service directly from their headquarters to all of southwest Ohio. If you are looking to improve your security in the Southwest Ohio area, Camera Security Now's experienced hometown technicians will provide security consultations and installation services directly from their home office.
Local Ohio Service Areas
| | | | |
| --- | --- | --- | --- |
| Beavercreek, Ohio | Bellbrook, Ohio | Sharonville, Ohio | Middletown, Ohio |
| Fairborn, Ohio | Xenia, Ohio | Blue Ash, Ohio | Franklin, Ohio |
| Huber Heights, Ohio | Vandalia, Ohio | Oxford, Ohio | Monroe, Ohio |
| Kettering, Ohio | Hamilton, Ohio | Lebanon, Ohio | Trenton, Ohio |
| Riverside, Ohio | Fairfield, Ohio | Norwood, Ohio | Milford, Ohio |
| Troy, Ohio | Springboro, Ohio | Forest Park, Ohio | Centerville, Ohio |
| Englewood, Ohio | Mason, Ohio | Wilmington, Ohio | Eaton, Ohio |

If you don't see your city listed here, check out the full list of Ohio Service Areas, or for those outside of Ohio, find Security Camera Installers in my Area here.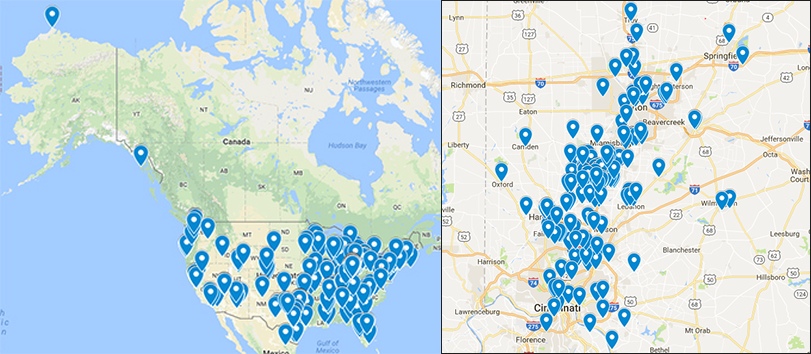 Nationwide Service
Are you located outside of the local service area? No problem! Camera Security Now has an army of technicians all around the country, most of whom they have done numerous jobs within their 30+ years in the security industry; in fact, they call them the Tech-Army. No matter where in the continental United States you're located, they have a Tech-Army professional nearby with the knowledge and expertise necessary to install your security system.
Camera Security Now stands by all of their products and installations with the same guarantee of excellent products, service, and support no matter where you're located.
Guaranteed Satisfaction
Because in-house technicians set up and test every piece of security camera equipment that goes out to their nationwide army of installers, your system is guaranteed to work just the way you want it. Their in-house techs and installers work together to understand the needs of your business, create a map for installation sites, and ensure your new surveillance system meets all of your security goals.
If any issue arises in the future, or if you need training on how to use certain features, Camera Security Now's experienced technical support agents will provide direct support via conference calls, video conferences, or site visits to make sure you get the most out of your new camera system.
So whether you're located in their local service area or need nationwide service, Camera Security Now's commitment and promise to you is to always exceed your expectations for customer service and professionalism. From a 15-minute guaranteed response on quote requests to quick response time on phone calls and emails, their commitment to service has always been a top priority. When you need a partner you can trust who is also a trusted partner in the community, look no further than Camera Security Now.