SMB Online: Free Shipping is Critical
Friday, August 6, 2010
Posted by Brawlin Melgar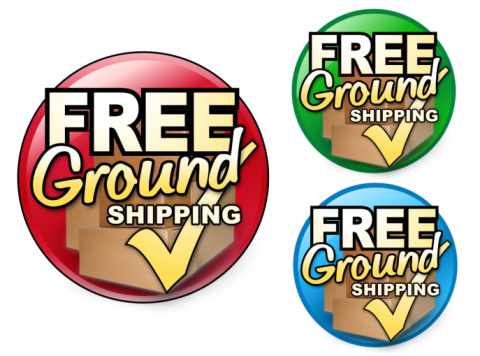 Having read your recent
article commenting on SMB office supplies
and trends survey, I thought you might be interested in the results from a recent survey from Staples. Wanting to gain further insights into what's important to small businesses in today's economic times, Staples commissioned a survey of 300 small businesses (with 20 employees or less), to identify their preferences and experiences when shopping for business supplies online.
Results showed that small businesses are paying extremely close attention to online retailers' delivery policies and practices, and this awareness can be attributed to that the bottom line for many small businesses is saving time and costs. In fact, of those small businesses surveyed who order online, an overwhelming majority - 99 percent - say free shipping is a critical factor when deciding which retailers to place orders with online. Additional key findings are included in the press release below.
Maggie Cadigan
For Staples.com
617-520-7066
Free Shipping a Must for Small Business Online Purchases
99 Percent of Small Businesses Surveyed Say Free Delivery is Critical
FRAMINGHAM, Mass., Aug. 4, 2010 – Saving time and money is imperative to small businesses that order their supplies online, and virtually all (99 percent) say free shipping is an important decision factor when selecting a retailer. According to a recent survey commissioned by Staples (NASDAQ: SPLS), small businesses that order online say it saves them time and money, and nearly half (46 percent) feel that their small business could not operate without this cost-saving benefit.
Surveying a national random sample of 300 small businesses (with 20 or fewer employees), Staples asked them to identify their preferences and habits when shopping for business supplies online (including the use of mobile devices to make purchases). While small businesses use multiple ways to shop for office supplies, and a significant number make store visits, one in two small businesses order online.
Small businesses keep an eye on both costs and convenience when deciding to shop online. In terms of the greatest benefit for online ordering, 86 percent of respondents said that it saves them time. For those who do not shop online, half (50 percent) said that it's due to shipping costs and 51 percent said it's more convenient to pick up an item in-store.
For small businesses concerned about shipping conveniences and costs, Staples offers a solution: all orders over $50 from Staples.com or via phone ship for free. In addition, Staples offers free shipping for any orders delivered to a store, regardless of order size.
Going Mobile
In the survey Staples commissioned, small businesses reported how likely they are to leverage mobile capabilities, such as a smartphone, for searching and purchasing supplies online. Small businesses that shop online frequently (three or more times per month) are more than twice as likely to say that mobile capabilities are important than those that place one to two orders online per month. Additionally, more than a quarter of small businesses (27 percent) say they already have a device capable of making these purchases. To address the growing need for mobile capabilities, Staples recently enhanced its existing mobile website so customers can easily shop and buy on any web-enabled phone. For customers who prefer applications, Staples created its first iPhone app which can be downloaded for free in the iTunes App Store. For more information about Staples' app, please contact appfeedback@staples.com.
Saving the Day
In an additional customer poll, Staples surveyed more than 300 members of its Small Business Customer Advisory Panel. Customers said that free delivery of supplies purchased online matters a great deal. In addition, nearly 25 percent said that Staples' Fast and Free Delivery has, at one point, "saved the day" for their business.
Small business customers said that when they can't afford to leave their office for needed supplies, they go online. From running out of ink cartridges in the middle of tax season, needing the perfect paper to meet a tight client deadline, or having a computer monitor die in the middle of a power outage, these small businesses agree: fast and free delivery is a must-have to keep a business running.
"As a small business owner running a local community paper, I can't afford downtime from running out of supplies, such as ink or paper," said Bryan Flagg, Northcounty News, a Staples small business customer. "At a time when my printer died and I needed to get the local paper out the next day, I knew I could depend on Staples.com not only to offer a great assortment of office products available online, but also to deliver me what I needed when I needed it."
"At Staples, we make it priority one to understand how small businesses' needs are evolving. We're committed to making it easy for customers whether they want to shop online, on a mobile device, by phone or in-store," said Anabela Perozek, vice president of marketing, Staples Business Delivery. "We also realize that the bottom line for many businesses is saving time and money. That's why we offer our Fast and Free Delivery service for all orders over $50 to anyone who shops Staples.com or by phone."
About Staples' Fast and Free Delivery
Staples Business Delivery serves small business and home office customers through Staples.com and catalogs. Staples.com, a leading e-commerce site, makes it easy to research, browse and buy a wide assortment of office products and services for customers who shop online, in Staples stores or both. Staples offers free delivery for all orders over $50 and is committed to delivering the perfect order on time and hassle free. For returns of online orders, Staples offers convenient delivery pickup or accepts returns at any Staples store.
Survey Methodology
Staples commissioned KRC Research to conduct a national online survey of 300 small businesses with 20 or fewer employees; the survey was conducted between June 11-16, 2010. For the Staples customer survey, Staples surveyed its Small Business Customer Advisory Panel. The results reflect responses from 372 of Staples' small business customers, conducted June 1-8, 2010.
About Staples
Staples, the world's largest office products company, is committed to making it easy for customers to buy a wide range of office products and services. Our broad selection of office supplies, electronics, technology and office furniture as well as business services, including computer repair and copying and printing, helps our customers run their offices efficiently. With 2009 sales of $24 billion and 91,000 associates worldwide, Staples operates in 26 countries throughout North and South America, Europe, Asia and Australia serving businesses of all sizes and consumers. Staples invented the office superstore concept in 1986 and today ranks second worldwide in e-commerce sales. The company is headquartered outside Boston. More information about Staples (Nasdaq: SPLS) is available at www.staples.com/media.