TextFlow vs. MS Office 2010 for SMBs
Friday, June 25, 2010
Posted by John Beagle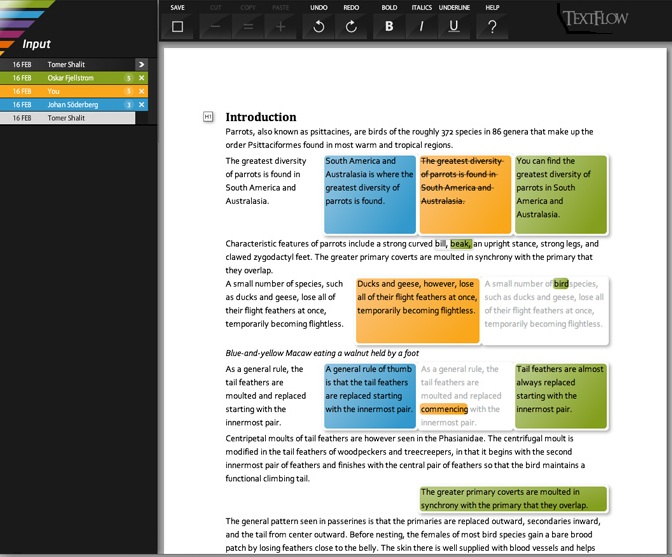 Microsoft Office 2010 has finally hit shelves, but what SMBs want to know
is, "is it really worth it?
Combine this with the fact that new collaboration features of Office 2010 only being available together with Sharepoint 2010, and it's no wonder why businesses are looking at alternatives such as OpenOffice and Google Docs. With the different platforms users can mix and match solutions, build their own mashups and pay for just what they need.
A tool that is helping users work between all the different platforms is TextFlow (
www.NordicRiver.com
) which recently launched not only a desktop version for Microsoft Word documents, but also their TextFlow application for the Google Apps Marketplace - both of which enable users to clearly visualize, evaluate and decide upon contributions made by multiple writers within each respective system.
With TextFlow, SMBs can get collaborative functions in Word without the
upgrade to Office 2010 and Sharepoint 2010. It can be used as an "offline
alternative" to using Sharepoint, which gives SMBs several benefits:
.
Collaborate with people outside your organization, just by emailing
attachments and getting them back
.
Get collaborative functions without the upgrade or without waiting
for your entire organization to upgrade
.
Only the "main editor" (the person in charge with collating the
different versions) needs TextFlow - you don't need your entire team to
upgrade or change habits
While all other players are pushing new ways to collaborate and write
together, TextFlow has a special niche - how to make the best decisions when writing.
Microsoft Office is a trademark of Microsoft Corporation.