New Microsoft Outlook Tool for SMBs
Wednesday, November 17, 2010
Posted by Brawlin Melgar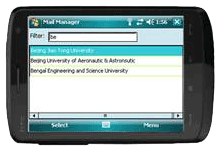 Mail manager LAUNCHES 'SNAP 'n' SEND' SCREEN GRAB EDIT TOOL and new windows mobile version
Snap 'n' Send lets users capture and combine on-screen images, add markups and text and send the new document directly from Microsoft Outlook
London, England November 17, 2010- Oasys Limited, makers of high quality software products, today announced the release of Mail Manager 5.2, featuring an expedient new screen grab tool, Snap 'n' Send, and compatibility for Windows Mobile.
Snap 'n' Send lets users capture and combine on-screen images, add markups and text and send the new document directly from Microsoft Outlook. With one simple click, these customized documents can be attached to an email as a PDF. Snap 'n' Send eliminates the multiple steps typically required to save and send a screen grab.
"This new version of Mail Manager offers even more user-friendly options to turn email into a productivity increasing business tool," said Alec Milton, Managing Director of Oasys Software. "The introduction of Snap 'n' Send to the toolbar adds a whole new level of time-saving capabilities conveniently housed in Microsoft Outlook. Upon the success of our Blackberry integration and in response to customer demand, Mail Manager is also now available for Windows Mobile."
Windows Mobile users can now enjoy the benefits of Mail Manager on-the-go by filing messages received and sent from handheld devices and assuring important project-related emails are swiftly shared and saved in team folders. Offline capabilities let users organize and file emails during travel or when out of range and automatically sync work when reconnected.
According to a report by The Radicati Group, the number of email users is estimated to rise to 1.9 billion by 2013. The group also reported that approximately 247 billion emails were sent each day in 2009, equating to 2.8 million emails generated per second. Many companies have still failed to implement effective solutions to handle the constantly increasing volume of emails - leading to costly consequences.
"Mail Manager answers a need that no other email archive solution addresses," said Geoffrey Pangonis, Messaging Administrator for VHB, Inc. – a top engineering and design firm with 19 offices. "The features in this product continue to improve. We frequently need to add comments and mark-up to documents and drawings. The new Snap'n'Send feature in Mail Manager surpasses the capabilities of other tools placing a finished PDF in a ready-to-go email in just a few clicks, and it's fun to use too."
As pioneers in email management solutions, Oasys continues to expand Mail Manager's functionalities to provide the most instinctive, user-friendly solution for email organization. Mail Manager reduces inbox sizes without losing access to important messages. It saves companies money by freeing up email server space, dramatically eliminating time spent in e-discovery and meeting compliance regulations for email retention.
TRY THE NEW VERSION FOR FREE FOR 30 DAYS. Mail Manager 5.2 is currently available for download from the Oasys Limited web site at:: http://www.oasys-software.com/mailmanager
About Oasys Limited
Established in 1976, Oasys Limited has a long-standing reputation for providing high quality software and support. As the software house of Arup, a global organization of consulting engineers, planners and project managers working in all areas of the built environment (e.g., infrastructure, transportation, water, vehicle engineering etc), Oasys is subject to the exacting demands of Arup engineers who require efficient, reliable and technically competent tools. Please visit Oasys Limited at http://www.oasys-software.com/.