The 12 SMB Marketing Phone Tips 'til Christmas
Tuesday, October 12, 2010
Posted by Brawlin Melgar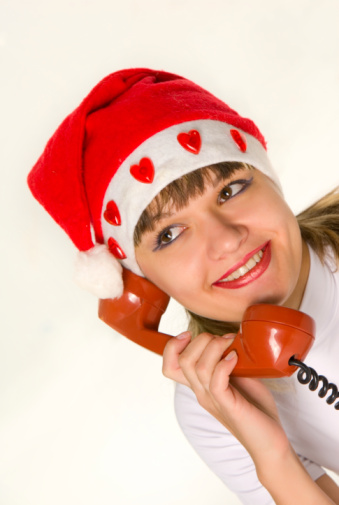 By Kevin Baker
Ah, the holidays. That wonderful time of year when families gather 'round the fireplace to drink a little eggnog, trim the tree, and experience the joy of being together.
For most of us, the holidays are also a very hectic time of year. Especially the 12 days leading up to Christmas. And that's true even if you don't happen to celebrate Christmas, because it still sets a very short deadline to get the word out about your business' holiday promotions via a marketing campaign, and for getting business done in general since most of the business world seems to come to a stop from December 25 until around January 3.
How do you reconcile the high-pressure needs of your small business with your family's desire to roast chestnuts on the open fire? Having a virtual phone service can help. Toward that end, we offer up these 12 small business phone tips 'til Christmas. Hope they help make your season a little brighter.
Tip 1: Use smart call forwarding to carve out a little time for yourself. A small business owner's time is not his/her own anytime during the year. But during the holidays it's especially precious. With smart call forwarding you can sneak out to do a little extended shopping, trim the tree with the family, or a holiday lunch without losing touch. Simply forward your calls to your mobile, home or other number and you can answer just as though you're in the office.
Tip 2: Record informational messages that answer repetitive questions. Rather than taking time to answer the same questions about what days you'll be working over the holidays or what time the business is open, pre-record a message and make it an option on your virtual receptionist. This tip is extra helpful for businesses whose hours will be varying greatly during the holidays. Retailers can also use these messages to post updates on the status of hot holiday items.
Tip 3: Spur holiday sales by offering door busters. Add a burst to your ads and/or direct mail/email promotions encouraging customers to call a particular extension you set up to promote the door buster of the day. You can even use different extensions for each advertising vehicle so you can track which ones get the most calls - thus telling you which are the most effective at driving customers to action.
Tip 4: Enable the virtual receptionist to greet callers during peak times. Many businesses still prefer to have calls answered by a live person. But during the holidays, the high volume of calls can make it tough to answer every call promptly. Rather than forcing callers to leave a message or call back when you're not available, use the virtual receptionist as a backup to provide a friendly, professional greeting and help callers connect with the person or department they want quickly.
Tip 5: Use voicemail transcription to scan through messages. Voicemail messages always seem to multiply during the holidays. Choose a virtual phone service that has the ability to turn voicemails into text, so you can have those messages sent to you via email or as a text to your phone. That way you can quickly skim through them rather than listen to them one at a time. It's a great way to stay on top of the priorities, especially when you're out shopping yourself.
Tip 6: Give Santa his own extension. Businesses can get in on the holiday spirit by letting kids call to speak with Santa directly at the North Pole. This works particularly well if you have a toll-free phone number.
Tip 7: Put a 'Call Me' button on your Web site. These days customers often gather information on the Web then use other means to make the purchase. Make it easy for them to call by adding a 'Call Me' button to your Web site. Customers click the button, input the phone number they want to use to receive the call, and are connected quickly - while they're still looking at the product or service on the screen. It's doubly important if you're a retailer without a Web purchasing capability.
Tip 8: Make business calls while you're out shopping with the family. But when you do, be sure the caller ID appears as if you're calling from the office. With the my1voice virtual calling card you can make outgoing calls at any time and from anywhere.
Tip 9: Use Caller ID tagging to identify business v. personal calls. By assigning a unique number to appear in front of the caller ID of incoming calls, you can tell at a glance what phone number the caller dialed - your my1voice number or your direct number. Knowing beforehand if a call is business or personal gives you the ability to choose which calls to answer so you can make more effective use of your time.
Tip 10: Don't stay behind waiting to receive a fax in your home office while your family heads out to the in-laws for a pre-holiday feast. Treat fax delivery the same as you do with your voicemail messages: by having faxes sent directly to the email inbox on your laptop or smart phone. Never be stuck somewhere waiting for a fax again!
Tip 11: Use smart call forwarding to offer 24x7 customer support. When customers need help during the holidays, they usually want it right now - even if it's 2:00 in the morning. With a small staff you can't be in the office 24x7. But you can use smart call forwarding to forward calls to any phone you choose. Have each person on staff take a night to provide that support during the holidays - then advertise it's available.
Tip 12: Make your holiday bright. Not really a phone tip but still good advice. Take the time to relax, enjoy and refresh yourself for 2011. Happy holidays!
Kevin Baker is the Product Marketing Manager for my1voice (www.my1voice.com) the cost-effective, feature-rich virtual phone service for small business. Kevin can be reached at kbaker@protus.com.