Adblade Gives SMBs Access to Big Media
Thursday, August 23, 2012
Posted by John Beagle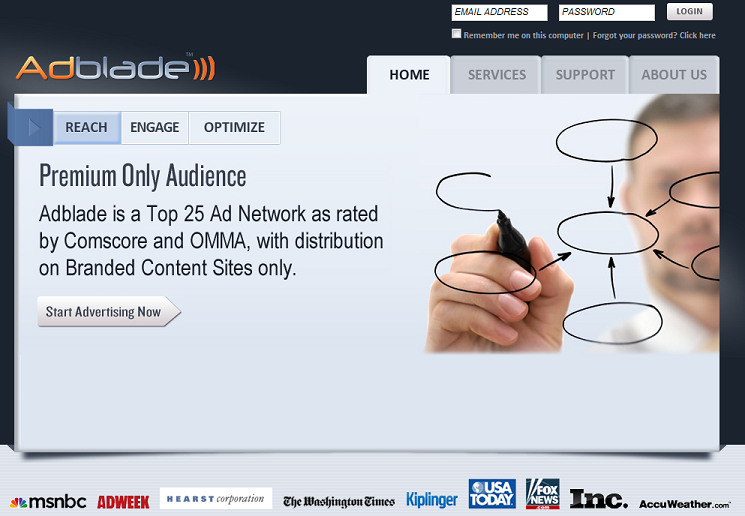 New Adblade Program Gives SMBs Big Media Reach
SMBs Can Advertise on the Web's Top Sites to Target Local Customers
Adblade announced the launch of a new program that allows small businesses to affordably target local customers by placing ads on top premium sites like NBC News, Fox News and USA Today. The new program gives small businesses big media power, using Adblade's Small Business Marketing Platform (smallbusiness.adblade.com) to target only customers within the company's ZIP code.
Priced for SMB budgets, the program offers exceptional ROI by presenting ads in Adblade's highly effective Newsbullets format, which generates up to three times more click-throughs than standard formats. Powered by OptiServe, a self-service online ad serving platform, Adblade offers placement on brand-safe, premium sites like The Miami Herald, The New York Post, Philly.com, Forbes and many others. Adblade delivers more than 200 million monthly unique visitors.
SMBs owners don't have to worry about their ads appearing next to offensive or questionable content with Adblade, which has a high rating from AdSafe, an independent online content rating organization. And Adblade makes it easy for any small business owner to quickly upload images and text and make standard banner selections. Adblade also provides a dashboard business owners can use to measure audience response in real time to adjust messaging for maximum impact.
"With Adblade, SMBs can target and only pay for users in the same ZIP code as their store while advertising on the web's top sites," said Ash Nashed, CEO of Adiant, parent company of Adblade. "Our ads reach 63 percent of all US Internet users, and with our propriety targeting algorithms, we can drive foot traffic to business owners' stores."
Adblade puts big media power in the hands of smaller companies – at a price they can afford. Find out more at www.adblade.com.
About Adblade
Adblade, a division of Adiant, is a leading online ad network that offers a unique value proposition through innovative proprietary ad units, expansive reach and distribution through only select top-tier publishers. A comScore and OMMA top 25 ad network, Adblade reaches more than 200 million monthly unique users in the US through over 1,000 branded content sites. Launched in January 2008, Adblade has built its business on unique ad units, and premium placements that allow both brand advertisers and top publishers to succeed in a crowded online marketplace. With highly responsive customer support and proprietary optimization technology, Adblade provides brands, agencies and direct response advertisers with industry-leading value and ROI. Adblade is headquartered in Somerville, NJ with operations in New York, NY. For more information, visit www.adblade.com.
About Adiant
Adiant is a digital media technology company that is committed to delivering the most innovative advertising solutions to top quality publishers and advertisers. The company's brands have been engineered completely from the ground up to offer both immediate and long-term sustained value with the highest levels of customer service. To discover more about Adiant, please visit http://www.adiant.com