SMB Tech: Which SmartPhone Will Rule in 2016
Tuesday, July 24, 2012
Posted by Brawlin Melgar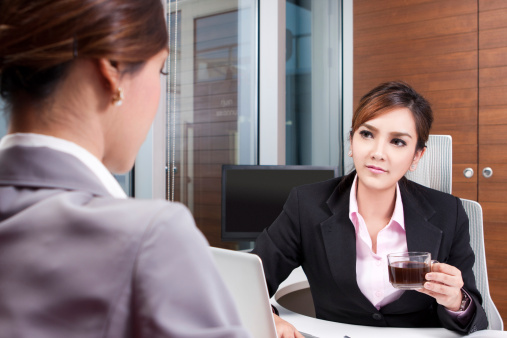 by Curtis Sparrer
83% of execs surveyed said they would rather give up coffee before parting with their smart phone.
But in 2016 which smart phone will they give up?

By then, Microsoft will catch up to Apple in mobile market share. But both companies will each only have about 20% of the pie. Android will be on top with 52.9%. These predictions are according to analyst firm IDC – and today one company is taking action.
TODAY, virtual events provider ON24 is announcing the launch of MOVE (Mobile Virtual Environments) to make sure every major device gets the support it needs in the Enterprise (please see press release below).
MOVE features Device Aware Technology – which means that ON24 Virtual Events are calibrated to respond to specific devices. That means you won't have to use your Windows Mobile phone as if it was an iPhone.

Virtual Events are like tradeshows or conventions on your computer, smart phone, or tablet. You can watch live speeches, network with attendees and take in visually stunning environments made by 3D artists to resemble anywhere on Earth - or in your imagination. You can see how virtual events are created from start to finish in this YouTube video.

To put this product announcement in context, consider these findings of 300 executives from Forbes Insights (in association with Google):
- Smartphones are second only to laptops in executives' arsenal of devices
- Many executives utilize a full array of devices for business purposes: On average, respondents had 3.46 devices each; CEOs (4.21 devices), CFOs (4.22 devices).
- More than eight in ten use their laptop (45%) or desktop (37%) computer most frequently for business. A sizable minority– 12%, use a smartphone most often.
- More than half of senior executives agreed that their mobile device is now their primary communications tool: Among executives under age 40, 73% see their mobile device as more critical to communications than their landline.

SMB Now Press Release:
ON24 Announces Expanded, Improved Virtual Event Access
Extending virtual environments to all mobile devices with optimized user experience
Tailoring the view to each device type automatically with new device-aware support
SAN FRANCISCO, Calif.– July 24, 2012 – ON24, Inc., the global leader in webcastingand virtual event solutions, has announced ON24 MOVE (Mobile Virtual Environments), a comprehensive expansion of its mobile product strategy with virtual environments optimized for viewing on mobile devices such as iPads and mobile phones. Tablets now provide an HTML5-based immersive 3D virtual environment, and mobile phones deliver a content-focused compact view.
"ON24's mobile product strategy brings our virtual communications solutions to life on the iPad and other mobile devices," explained Jayesh Sahasi, ON24's Chief Product Officer and CTO. "With ON24 MOVE, mobile users can have as rich and immersive an experience as they have come to expect with all of our other products. ON24's solutions are truly optimized for tablets and mobile phones; they aren't just a're-display' of the desktop version."
The focus on providing an optimized mobile experience for virtual environment audiences has been driven by the rapid growth of mobile usage on ON24's webcasting platform. "It grew 300% in the last year, and we expect it to double by this time next year," Sahasi explained. One example of an ON24 customer fully embracing mobile access is Eli Lilly. Recognizing the need to communicate regularly with geographically dispersed and on-the-road sales team members, Eli Lilly has conducted a series of all-hands webcasts optimized for mobile access. Most of the attendees, in fact, view the live video webcasts on iPads.
ON24 Tablet Features
An important new feature is the implementation of "device-aware" support for viewing virtual environments on tablet devices. Now the graphical appearance of locations and booths is available for viewing on a tablet—without the need for the additional customization required by other vendors. "Our virtual environments are now fully supported across the continuum of computing form factors—smartphones, tablets, laptops and desktops—further extending the potential reach of an environment," Sahasi said.
This is what the market is demanding, Sahasi added. "Our clients don't want to manage multiple virtual environments for different devices or set up a complex environment where they need to worry about selecting every nuance of the interaction and graphic for each device. They want a centralized approach, with tools that make well considered, sensible decisions, so that their audiences automatically get the right view and the best experience. With ON24 MOVE, customers can focus instead on content and delivering the best messages to the right audiences."
In addition to auto-detection of phones and tablet devices, new tablet features include:
Immersive 3D virtual locations
Touch-based navigation
Videos and animations
Group chat
Content search
Booth representative listings
"What this means," Sahasi explained, "is that tablet users are now able to enter a virtual location such as a plaza and navigate to various booths, engage in chat, view and download documents, ask questions and interact in a virtual trade show, product briefing or training center, as well as network with other attendees—just as they would in a physical location. In fact, the experience is often better than an in-person experience."
In addition, ON24 solutions capture mobile users in a central reporting system. Users accessing content from mobile devices appear on the registration and attendance reports like any other user. For example, the duration of their viewing and questions asked during the virtual event are captured.
The ON24 Mobility Roadmap
"Mobile support is a top priority at ON24 in 2012," Sahasi said. "All of our product development initiatives will take mobile viewing into consideration. Our goal is to launch new features simultaneously on all devices."
For more information on ON24's solutions and the extension of virtual environments to mobile devices, call 1–877-202‑9599.
About ON24, Inc.
ON24, the virtual communications platform for the global enterprise, provides interactive, impactful cloud-based solutions that drive outstanding results. ON24 offers a broad and innovative product portfolio, including webcasting, virtual events and virtual environments, accessible from any device and supported by robust reporting and analytics. Applications for the ON24 platform include demand generation, partner enablement, training, product launches, company town hall meetings and user conferences. More than 700 organizations, including IBM, CA Technologies, Merck, Unilever, JPMorgan Chase, Deloitte, Credit Suisse, Ernst & Young, Amazon and New York Life, rely on ON24. The company is headquartered in San Francisco, with offices throughout the world. For more information, visit http://www.ON24.com.