SMBs get the same broadcast tools as the Enterprise
Wednesday, April 18, 2012
Posted by John Beagle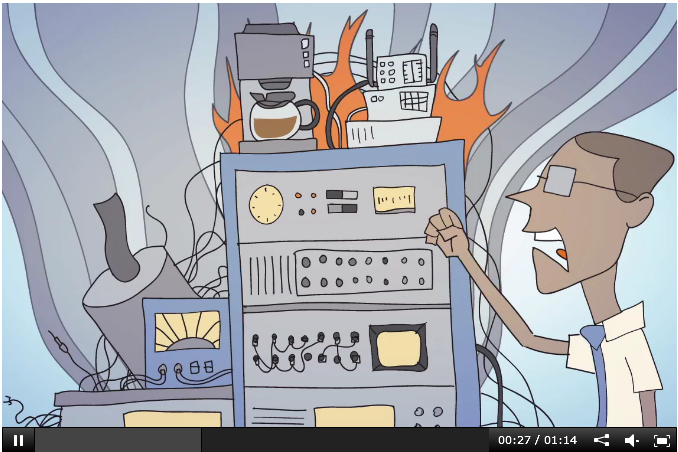 by Tom Carpenter

Finally – small and medium businesses are getting the same video broadcast tools as big Enterprise companies.

That's important for leveling the playing field between small businesses and big businesses when you consider how important video is:

• A video is 50 times more likely to rank on the first page of Google than any other content
• 81% of senior marketing execs use online video content, up from 70% last year
• 66 percent of business execs use or watch business-related videos at least weekly
• 46% of online video viewers (and 51% of people ages 18-44) likely to seek out participating brands (Harris survey)
• Ages 18-34 make up outsized portion of online video viewers, smartphone users, social networkers, etc

The Qumu Video Control Center Professional Edition, is a targeted solution for both SMBs and AV Broadcast departments. It's being launched TODAY.

With the Qumu Video Control Center Professional Edition you can:
• Ingest a wide variety of video from the field
• Upload content into a central repository
• Apply security, network distribution and business rules
• Easily organize content using categories and channels
• Search using keywords or specific metadata
• Publish content locally for departmental sharing, or seamlessly publish to an Internet CDN for wider reach
Solving the Business Problem by Removing Complexity
Broadcast teams work with an extremely high volume of very large files. Making them easily searchable and retrievable is a primary concern. Broadcasters often resort to posting videos to a file server and tracking comments with a spreadsheet. Others burn discs for distribution and sign off. Additionally, broadcasters often search archives of existing content for anything than can be re-used to create new content.
For AV teams, it can be a daunting task to coordinate across a large dispersed enterprise to implement an overall video communications platform. If the larger enterprise isn't ready, or if the systems are not in place yet to standardize on a single platform, the Video Control Center Professional Edition is the perfect solution.
The Qumu VCC Professional Edition is a central management system that allows editors to easily contribute, share and track videos during the post-production process. It's a complete, proven, standards-based solution specifically developed to improve each phase of the video publishing workflow; content creation, management, distribution, and experience. As a result, Qumu permits customers to accelerate and streamline the deployment of rich media by eliminating complexity from the publishing process.
Qumu Video Control Center Professional Edition Features Overview:
Creation and Ingest– Easily upload content into a central repository. Supports a large number of formats.
Management- Easily bundle relevant metadata, automatically transcode, and assign viewer access rights. Apply security, network distribution and business rules. Easily organize content using categories and channels, and search using keywords or specific metadata (i.e., author). Supports ratings and extensive commenting by reviewers.
Distribution– Publish content locally for departmental sharing, or seamlessly publish to an Internet CDN for wider reach. VCC Professional Edition supports both Akamai and AT&T ACDN. Additionally, seamless integration with Rimage disc publishing systems allows content to be burned to a physical disc when necessary.
Presentation- Intelligently present content in a social video sharing portal. Allow users to easily find, review, comment on, rate and share video content with colleagues. Viewing rights can be controlled via LDAP integration, by private access codes, or by portal user accounts.
Reporting- Track viewer activity through comprehensive reporting. Know when someone views all or a portion of your content.
"We've provided solutions to AV Broadcast teams for years and we've heard their needs for improved post-production workflow," said Sherman Black, CEO of Rimage. "We're breaking new ground with this first integrated product to provide streaming video content sharing, central management of rich media assets, and seamless publish-to-disc capability."
Availability
Qumu VCC Professional Edition is available now and is sold as a pre-packaged appliance.
About Qumu
Qumu, Inc., based in San Bruno, California, is the leading business video platform provider, empowering organizations to better engage and inspire employees, improve productivity, and reduce costs. Video is pervasive – it appears in all business applications and is consumed on all devices. The largest Global 1000 companies depend on Qumu's video platform to capture, manage, and distribute live and on-demand content with total reliability and security. Regardless of audience size, viewer device, or network configuration, Qumu simply makes video work. Only Qumu delivers the Freedom to work with existing infrastructure; the Power to reach everyone; and the Control to do it right.
Visit www.qumu.com
About Rimage Corporation
Founded in 1978, Rimage Corporation (NASDAQ: RIMG) helps businesses deliver digital content directly and securely to their customers, employees, and partners. Rimage's Qumu business is a leader in the rapidly growing enterprise video communications market. Rimage's Signal online publishing platform automatically pushes secure mobile content to nearly any mobile device or computer. Qumu and Signal, in combination with Rimage's world-class CD, DVD and Blu-ray-Disc™ publishing solutions, enable businesses to securely deliver their videos, documents, audio files and images in today's multi-platform, multi-device world. Rimage supplies thousands of customers in North America, Europe and Asia with industry-leading solutions that increase engagement, collaboration and control. Additional information can be found at www.rimagecorp.com.