SMBs Gain Search Market Share
Thursday, February 3, 2011
Posted by Brawlin Melgar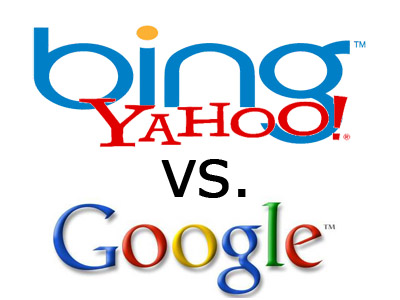 "SMBs Achieved More in Search in Q4, With Diversified Search Engine Strategies and 56 Percent More Calls" -According to WebVisible Report
SMBs Shifted from Google to Yahoo-Bing Paid Advertising in Fourth Quarter
Reflects Increased Click-Through Rates and Lower Costs Per Click
Small businesses achieved more in search in the fourth quarter of 2010 by increasing their keyword portfolios and diversifying ad spending across the major search engines, according to a report released today by WebVisible (www.WebVisible.com), which tracks small business search advertising trends.

The average small business advertiser spent $2,126 in the fourth quarter of 2010, while average keyword counts reached an all-time high of 87 root keywords, a 30 percent year-over-year increase from the last quarter of 2009. Small-business advertisers also took advantage of the slow migration in October of Yahoo advertisers to the new Bing adCenter platform and shifted their spending away from Google – a strategy that appears to have at least temporarily bolstered both click-through rates and clicks leading to phone calls.
Costs-per-click were 23 percent lower on Yahoo-Bing than on Google in November and 29 percent lower in December. At the same time, click-through rates for advertisers with ad programs on the Yahoo-Bing platform were 10 percent higher than those on Google during December, according to the report, while the percentage of clicks resulting in phone calls rose from 3.9 percent in the fourth quarter of 2009 to 6.1 percent in the final quarter of 2010 – a dramatic 56 percent increase.

"We're pleased to see that our robust technology and years of experience are clearly helping small business advertisers achieve greater efficiency and conversion rates, and they're achieving these results with manageable ad budgets," said WebVisible CEO Ron Burr. "Looking ahead, we believe successful campaigns will be those that combine the best creative, most dynamic media buying strategies, and smartest use of keyword targeting all working together, which is what WebVisible does best."

These results and others are included in The WebVisible Report: State of Small Business Online Advertising, which examines trends among WebVisible advertisers from Q4 2009 through Q4 2010 and represents more than $54 million in U.S. small business advertiser spending by more than 10,000 individual advertisers during that period.
The report, which each quarter provides the definitive snapshot of how small businesses are deploying search and online marketing tools, revealed that Google's share of total search ad spending among WebVisible clients dropped from 56 percent in the fourth quarter of 2009 to less than 38 percent of total spending in November before climbing back to 52 percent in December.
Home Page Video Usage Continues to Grow
The fourth quarter results continued to show that small business advertisers consider video to be an important component of their online advertising presence. Twenty-six percent of advertisers used video on their landing pages in the fourth quarter, up from 19 percent in the previous year's fourth quarter. Video views increased 85 percent year over year, rising from 3.7 percent of landing page actions a year ago to 6.7 percent in the final quarter of 2010.

The Q4 2010 report, as well as reports from previous quarters, is available by request here: http://www.webvisible.com/wvreport. Members of the media may also contact info@edgecommunications.com or call (818) 990-5001.
About WebVisible, Inc.
WebVisible has been the leading provider of local online marketing software and services since 2001. WebVisible was among the first to pioneer the use of search as a reliable, measurable avenue to connect directly with a buyer's needs, providing solutions through some of the world's largest Interactive Yellow Page companies, directories and other media vendors. The company has served over 100,000 customers from 4,000 industries in 14 countries. The company also delivers solutions directly to small businesses throughout the United States. WebVisible is based in Irvine, California with offices in Los Angeles, Charlotte and Mumbai. For more information, visit www.webvisible.com or call 949-255-9677.