SMB Online: How to Attract Customers During the Holidays
Thursday, November 22, 2012
Posted by John Beagle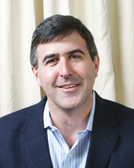 How to be Found Online: New Customers for the Holiday Season and Beyond
by Court Cunningham, Chief Executive Officer, Yodle
As 2012 comes towards an end, a lot of SMB owners are determining what they can do to have a great holiday season and also build positive momentum heading into the New Year. It wasn't so long ago that SMB owners were relying on word of mouth, the Yellow Pages and a few ads in the local newspaper to increase awareness and expand their customer base.
Today, the place where people look is the Internet. Inserting your SMB online is key to acquiring customers and getting them at a reasonable cost. That most important way to do just that is to secure a spot on a relevant Search Engine Results Page (SERP) so that a consumer searching on the likes of Google, Bing or Yahoo! will find you online. It's particularly important to appear on the first page of that search given the significantjump in site traffic merely from going from the top of the second page to the bottom of the first.
You ideally want show up in the following sections on the SERP:
i) 'Ads,' also known as "paid search" or "sponsored listings"
ii) Map listings, interspersed throughout the center of the page and associated to a lettered pin on the displayed Map
iii) Non-maps "free" listings, also in the center of the page and often referred to as "organic" or "natural" listings
Leveraging each of these three sections is the name of the game – so without further ado let's jump into how to get new customers from the Internet both during the holiday season and beyond…
1) Invest In Paid Search
Paid search advertising on the most prominent search engines is the most immediate way to get your business in front of potential customers. It is therefore something that you should strongly consider if you're hoping to get a quick return on investment from your online marketing efforts during the holiday season.
With paid search, you can select what search queries you want to show up for and write the copy you want to show up for those keywords. You can, for example, include special holiday offers in your ads that provide a clear call to action to consumers to consider using your business immediately. As paid search placement priority is dependent only on how much you're bidding, securing the first page on the search engines can be just a few clicks away.
2) Claim Your Company's Online Maps Presence
Local consumers heavily leverage the maps section on search engines because they can quickly compare different companies on simple criteria such as distance, services and business hours. In order to show up on the most important map listings, you need to "claim" a maps page with Google Plus Local, Bing, and Yahoo! Local Listings. Make sure to create relevant keyword content and add appropriate photos to the listing, as well as add consistent information across credible Internet directories (e.g., CitySearch, Yelp, etc.), all of which will increase the likelihood of being included high in the maps section.
3) Design Your Website with Organic Placement in Mind
"Organic" search results are organized by the search engines according to a variety of characteristics to give consumers the most relevant possible results. Bear in mind that it often takes several months to show up on the first page of an organic section. While that means you may not see results in time for the holiday season, you should start now to get ahead for 2013.
Organic listings on search engines are determined by something called a "bot" – short for "robot" – that read through the backend coding of sites and decide which ones are most relevant. These bots look at the content on a particular site that includes both the visible text and also part of the code which is referred to as "tags." For example: all things being equal, a site for an accountant in Austin, TX that uses the words "accountant", "Austin", and "TX" in the tags has a much greater probability of high placement than one that does not. "Bots" also look at the clarity and quality of the site architecture when making ranking decisions.
4) Make Sure your Website Turns Web Traffic into New Customers
There are a number of things you need to do with your website to maximize the number of calls or emails that you get from potential customers after they've found you on the SERP. Examples include:
· Make sure your contact information is clearly visible. Your phone number should always be in a prominent place on your website
· Keep it simple. Bombarding people with too much information means they are likely to be overwhelmed
· Give your visitors a soft landing. You should have a separate page for each of your primary business areas
· Go mobile. By 2015, over half of all local online searches are expected be conducted on mobile devices. If your site doesn't render properly on mobile devices, chances are visitors using these devices will get discouraged and move on
The Good News – It Can Be Done
Given the complexities and amount of time and work involved, coming up with an effective plan to be found online can seem daunting. Bear in mind that we didn't even touch on a plethora of other Internet-related activities that you can consider, such as social media promotions that can be particularly impactful for some sectors during the holiday season. The good news is that there are companies out there that can partner with you to help create an effective online presence for both the holiday season and beyond. Regardless of the approach that the SMB owner takes, being found on the Internet by potential customers is critical during this digital age.
Court Cunningham is Yodle's Chief Executive Officer. Yodle partners with more than 30,000 SMBs to market their products and services online, connecting them to consumers simply and cost-effectively. You can also find out more information about Yodle at www.yodle.com or by contacting the company at info@yodle.com or 877-276-5104.