New Kensington Products Customized for SMB Point of Sales
Tuesday, November 27, 2012
Posted by Kyle Thompson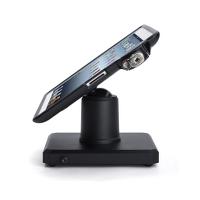 Kensington, a worldwide leader in delivering smart. safe. simple.™ computer accessories today announced five new products engineered to support the explosive growth and use of tablet computers for the enterprise, SMB and education market. The smartly designed products include the Charge and Sync Cabinet for simultaneous charge and sync for up to 10 iPads. Also announced and detailed below, is a suite of point of sale combo stands and enclosures featuring trademark SecureBack™ technology.
· SecureBack™ PRO is designed specifically for single purpose enterprise environments such as interactive environments for an increased customer experience.
· SecureBack™ VESA is ideal for kiosk use and utilizes both 75mm and 100mm VESA mounting holes for a universal fit on any VESA equipped stand or mount.
· In addition to the enclosures, Kensington is introducing the SecureBack™ POS Stand and Enclosure for iPad®, the ultimate 360 degree pivot stand incorporating SecureBack VESA and a ClickSafe® lockhead – providing the most elegant, customer friendly, secure stand and enclosure on the market.
· To complete the solution, Kensington is introducing the ClickSafe® Point 2 Point Keyed Lock, providing an effective locking solution for both the stand and the enclosure.
"Kensington recognizes the growing demand and new usage pattern for tablet computers, particularly the iPad – one where the device is used by many people, but for one main task," said Rob Humphrey, Director Security Products, Global Business Kensington. "We refer to this as a Single Use/Multi User environment. While thousands of iOS applications have been created to serve this market, very little has been offered on the 'hardware' side, so we are particularly excited about these new products because we believe that they will greatly benefit point of sale opportunities, enhance the user experience and improve security policies."