Likeable Launches Likeable Local for SMBs
Monday, June 11, 2012
Posted by Brawlin Melgar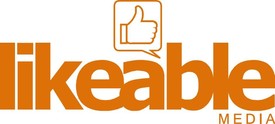 Likeable announced the launch of Likeable Local, a Facebook marketing solution for small businesses. Likeable Local was created in conjunction with Likeable's mission to help small business owners use social media to build their brand, engage with consumers and create a more likeable world.
"We realize that many small business owners don't have the resources to hire an agency and don't have the time to create content for and grow their social media pages themselves," said Dave Kerpen, Co-Founder and CEO of Likeable. "This is the fast, all-encompassing Facebook solution for small businesses."
Likeable Local's first vertical is Likeable Dentists, in conjunction with Henry Schein, Inc. (Nasdaq:HSIC), the world's largest provider of health care products and services to dental, medical and animal health office-based practitioners. Likeable Dentists provides full service social media support, with four key components: content publisher, ad buyer, tab creator and an offline Facebook marketing kit. The platform was launched in closed beta last month, with more than 100 customers.

This past weekend, Likeable Dentists officially launched to the Henry Schein sales force at the Henry Schein National Sales Meeting in Orlando, FL. Future verticals include Likeable Lawyers, Likeable Restaurants, Likeable Veterinarians and others.
"The theme of Henry Schein Dental's National Sales Meeting this year--'Believe It -- Achieve It'--underscores our enduring commitment over the past 15 years to continually innovate and find the best solutions to enhance our customers' practices as they provide the highest quality care to patients," said Tim Sullivan, President of Henry Schein Dental. "We are excited to launch Likeable Dentists together with Likeable as an innovative and simple yet very powerful solution to help our customers evolve their practices with exciting changes in the dental market."
Likeable is an award-winning, global social media and word of mouth marketing firm. Likeable is also recognized as one of Facebook's top 90 Preferred Developer Consultants, and is the only agency to win three consecutive WOMMY awards from the Word of Mouth Marketing Association (WOMMA). In 2011, Likeable was named #118 on the Inc 500 Fastest-Growing U.S. Companies and #12 in New York City. For more information, visit likeable.com.