Google+ for Businesses Now Available for SMBs; Also Best Time for a Trial
Wednesday, October 10, 2012
Posted by Robert Beagle
by Mangala Karunaratne
Google+ for Businesses Now Available for SMBs; Also Best Time for a Trial
In August 2012, Google announced a preview version of Google+ specific to schools, businesses and government agencies. Google+ for businesses is available as an app in the Google Apps Marketplace. Word is Google will offer it free through 2013 and then start charging for it. This makes now the right time to trial Google+ to conduct SMB brand awareness via this social network.
There are plenty of expected features in Google+ for businesses that SMBs can leverage for anything from collaboration to SEO. Google+ will likely integrate with Google Docs, Gmail and Calendar for collaboration. You can probably expect to be able to video chat while collaborating. Hangouts are also expected to be integrated with these other Google tools. The social site will offer private and public sharing. Enhanced administrative tools are also expected to provide capabilities such as company-wide sharing defaults for posts. Such collaborative features are great but, SMBs would do well to remember the main purpose of Google+ should be to support brand awareness.
Most experts agree Google+ came about to compete with Facebook. Leading social media sites demonstrate their power and need for SMBs to take advantage of them. For example, in 2011 Nielsen found that more than 80 percent of all Americans use a social network. They also found Americans spend more time on Facebook than any other USA website. In addition, market research company Lab42 reported in September 2012 that roughly 50 percent of consumers think a brand's Facebook page is more useful than the brand's website. And, in October 2012 Facebook surpassed one billion users. It's no wonder why Google has developed Google+ to compete with Facebook.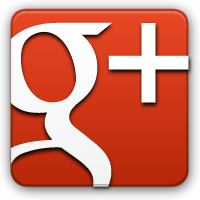 Google+ for business is free for SMBs - until 2013.
Google+ for SMB Brand Awareness
You can expect that using Google+ will enhance your search engine optimization (SEO) with Google. This is just one important reason for getting on Google+. First, you'll want to setup a Google+ business page. This will include providing basic information about your business and specifying categories to be in. Remember to optimize your profile for search engine rankings. Once setup you'll want to start developing your Circles. Circles are friends you invite to be part of your Google+ page. You can categorize each person, for example for business, friends, etc. Segmenting your audience is a good idea as you can target your posts specifically to Circles. For example, let's say your SMB sells restaurant supplies to local restaurants and to walk-in customers. You might want to create a Circle for each to target special savings for each one.
Use public relations (PR) efforts to build your brand's awareness with your Circles. For example, when you have a press release, make sure you post it for your Circles to see. If you're sponsoring a local event, running a new rewards program, etc. - whatever it is, post about it to your Circles. Remember that engagement is a two-way street. For your SMB to succeed in its social media efforts be responsive to comments, etc. that you receive.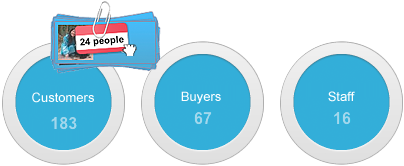 Circles can help SMBs segment their customers for targeted outreach (image credit: Google)
Social Media Return on Investment (ROI)
Once you've gotten a good number of people in your Circles, it's time to start measuring your social media results. Measuring social media results helps you make proper adjustments so you tend to do what works more than what doesn't work. You probably also want to be on other social sites. A good mix of other social media is important - Facebook and Twitter, for example. So, measuring results can become time-consuming the more social sites you're on. Fortunately, there are social media monitoring tools available that are affordable to SMBs. They can help measure results across leading social networks.
Getting onto social networks is usually simple enough. Building a community of followers can be tasking. However, through a proper mix of PR efforts combined with rewarding promotions for your customers, SMBs can leverage social media into an asset. Remember too that one can easily get lost in post after post without understanding the full impact of what you're doing. Have a goal in mind. Is it to enhance SEO over your competition? Is it to reward loyal customers to keep them coming back? Maybe it's to create a feedback mechanism to make your service or product better? Whatever it is, identify it and set a plan to accomplish it.
Your plan should consider frequency of your engagements as well as the methods you'll use to create engagements. Then, remember to measure your social media ROI. Use social media monitoring tools when possible to help demystify results. Monitoring your results will also help you adjust to create better campaigns each time. Also, social media monitoring dashboards can help alert you to when things may be going South about your SMB. This is yet another reason it's important to continually monitor the social media pages of your SMB.
Google+ for businesses will likely prove beneficial to SMBs. Right now is a good time to test it while it remains free through 2013. But, remember that Google+ is just one of many important social media sites. At the very least you should also have a Facebook page and Twitter profile. In addition, you may also want to consider YouTube, LinkedIn and others. As you engage more and more, you'll come to understand your best practices and how to best measure social media results to benefit your SMB's brand awareness. Access Google+ for businesses here: http://www.google.com/+/business/.
AUTHOR BIO
Mangala Karunaratne is the president and founder of Calcey Technologies, a professional services firm. The company provides comprehensive online services including web, cloud, and mobile solutions for companies worldwide. He also founded Xaffo, an online social media monitoring tool. He is open to questions about social media monitoring, web application development and more via Twitter @mangkaru.